Blindfolded Cacao Journey: Gently leading you back to the REAL you with Shivi
The space is created with the spirit of Co-healing and Co-regulation. We will open the space by serving Ceremonial Cacao to open our hearts, set intentions and connect to the frequency of gratitude, playfulness and expansive love and abundance.
Come heal in community in this multidimensional healing journey that combines the sacred plant medicine of cacao shared with love and reverence, in combination with intuitive & expressive movement + breathwork, and music.
Only the highest quality, organic, ethically sourced, ceremonial-grade cacao will be served with reverence, intention and love.
What to Expect:
◌ Deep Heart Healing
◌ Expanded Creativity
◌ Emotional Release
◌ Deep sense of Community & Connection
◌ Greater Peace
◌ Greater Joy for Life
◌ Strengthening Mind-Body Connection
Additional Info:
Come with an empty stomach and open mind, as we Journey with the great spirit of the Cacao plant!
Upon arrival we will dive deeper into our intentions and emphasize grounding through meditation, before drinking Ceremonial Cacao, sustainably sourced from Peru.
This workshop is accompanied by music and is a living, breathing space of Co Creation. This means that the practices vary, depending on the needs and desires of those who show up.
The tools we utilize in this Ceremony may include, but are not limited to: Breathwork, Hands on Energy Healing, Somatic De-armoring, Inner Child Play, Tantric Vocalization, Dance, Card Readings, Group Discussion, Channeling & additional integration supports.
In this space of heightened Co Creation, we intend to open our Hearts and clear the channel to Divinity, within all the layers of our Being. We look forward to meeting you in the infinite field of possibilities!
CONNECT WITH SHIVI
IG @The.Shala.within
This class/event takes place in our covered outdoor garden that's equipped with space heaters and blankets, please dress accordingly. Events will take place rain or shine.
PLEASE NOTE: LAST MINUTE CHANGES (SUBS & CANCELLATIONS) ARE SUBJECT TO HAPPEN. PLEASE CALL US IF YOU HAVE ANY QUESTIONS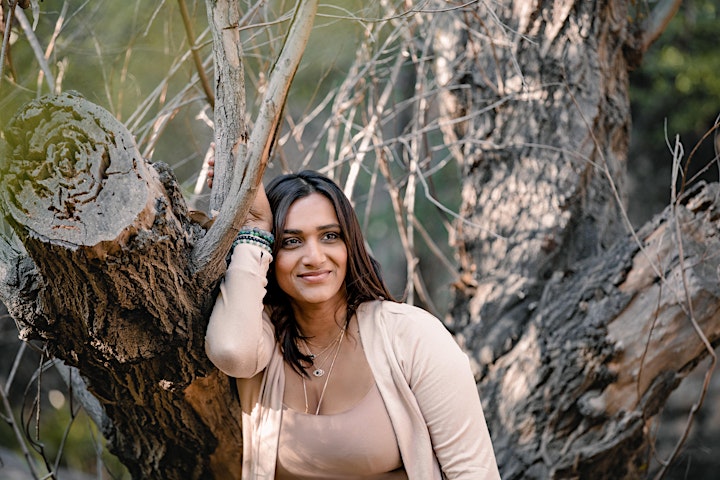 ABOUT SHIVI
Shivi was born in Chennai, India and grew up in Cary, North Carolina. From the vantage point of this side of their self-healing journey, Shivi can clearly see that they have been walking the spiritual path my entire life. Shivi was that little girl on the playground who talked with the flowers instead of playing tag with the other kids. They had their "imaginary" friend for longer than most kids were allowed and never stopped believing in the magic of this Earth and her ability to love and support them when everyone else failed me.
Shivi started and stopped their healing journey many times throughout their life, and firmly believe we all are healers. Their most recent sea-healing journey led to them to sit with many sacred plants to really process, clear and learn from their traumas and ultimately connect with their higher self to be fully guided in this work from their Soul's voice. Our life is our PHD and in a world that demands credentials, Shivi wants to show up simply as themselves. Shivi offers themselves in service to their own healing by creating safe spaces for us to come together, to feel supported, and to co-regulate our nervous systems to create the life we all deserve.
But, they know there are those who need to know in order to feel safe and Shivi respects that also! They are trained in Quantum Healing Hypnosis Technique created by Dolores Cannon. Shivi is also a certified Breathwork coach, Reiki level 1 & 2 energy healer, and transformational guide and soul integration coach. They have completed a sacred Cacao facilitator training to bridge this ancestral medicine with the needs of the modern world we live within.
ABOUT LIBERATE
More than a yoga studio, Liberate Yourself is a community created for spiritual and magically curious peeps like you! Everything we offer in our space – from infrared saunas to soundbaths, from classes to psychic readings, energy healing and crystals – is dedicated to helping you heal, transform and feel empowered to live your greatest life.
VIEW ALL OF LIBERATE'S EVENTS
We have an incredible number of amazing events on our calendar every month beyond our Wellness Program. Full Moon Circles, Sound Baths, Acupunture Meditation, Cacao Ceremonies, Past Life Regression Journeys and lots, lots more. Check out our full calendar here:
https://liberateyourself.com/calendar/