IN PERSON | Body Mindfulness Meditation with Ana Liz
Every Monday | 6:30 – 7:30 PM | $20
Rediscover your body as the ground of your spiritual path with Body Mindfulness (Somatic Mindfulness).
Unlike the thinking mind, which can easily wander in the past and into the future, the body is always present. The body is the medium through which we experience life (seeing, touching, smelling, hearing, tasting, speaking, moving…) and through which we can access our internal wisdom; as it stores our memories – both conscious and unconscious.
When experiences are not well processed and metabolized, their energy gets stored in our bodies' tissues, leading to pain and tension, causing a progressive negative impact on our overall health.
Body Mindfulness supports the body in recovering harmony and freeing itself from constraints of physical, emotional, mental, and behavioral patterns. By developing awareness and strengthening our inner resources, we increase our ability to relate to life's challenges with greater ease and grace.
Body Mindfulness is known to help those experiencing disturbance from trauma, anxiety, depression, grief, and other challenges. It is an excellent practice for all looking to amplify self-intimacy and improve their relationship with themselves, others, and the world. When we learn to integrate physicality, emotions, thoughts, and imagination, we foster a personal environment where our relationship with the body can shift from being one of expectations, resistance, and vanity, into being one of reverence, joy, and celebration.
WHAT TO BRING:
– Pillow or chair / Blanket / Water and anything else you need to feel comfortable (We will have some available if you don't have/can't bring one)
– Wear comfortable clothing that will not compress your stomach area. – Notebook and pen in case you wish to take notes.
CONNECT WITH ANA LIZ
https://www.embodiedcreatures.com
IG: @analizceregatti
ABOUT ANA LIZ CEREGATTI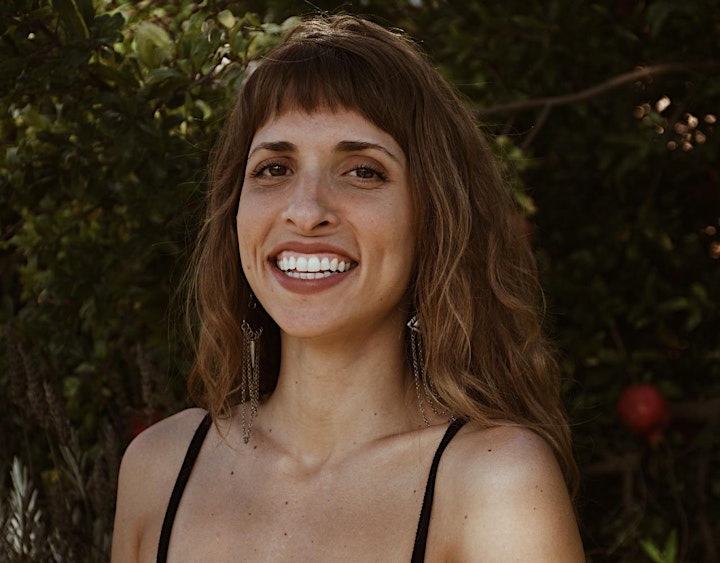 Ana Liz Ceregatti is a certified meditation & mindfulness teacher (IMMA/Accredited CPD Training) and an intermodal artist working at the intersection of art and healing. She specializes in Somatic Mindfulness, Expressive Movement/Dance, and Visual Arts, bringing these practices together to integrate body, mind, heart, and spirit. Through her creative and integrated methods, she facilitates overall healing and well being and supports people experiencing disturbance from trauma, anxiety, depression, grief, and other physical, emotional, and mental challenges.
Ana Liz believes, "By connecting with our bodies and authentic self-expression, we can heal and transform the ways we relate to ourselves, others, and our environment." She works with the particularities of each individual and designs her services to be suitable and enjoyable for anyone, from beginner to experienced.