Date
Jul 01 2023
Expired!
Breathwork & Yoga Nidra For Clarity & Expansion with Syhaya and Shannon
THURSDAY, AUGUST 24TH | 7 – 9 PM | $50 or TWO FOR $80
Breathe & Relax to your Highest Potential by combining somatic healing through movement and breathwork with the relaxing energy of yoga nidra meditation and reflective journaling to envision and embody your highest potential.
CONNECT WITH SYHAYA & SHANNON:
@ShannonLeeWhalen – IG
@SyhayaAviel – IG
This class/event takes place in our outdoor garden that's equipped with space heaters and blankets, please dress accordingly.
PLEASE NOTE: LAST MINUTE CHANGES (SUBS & CANCELLATIONS) ARE SUBJECT TO HAPPEN. PLEASE CALL US IF YOU HAVE ANY QUESTIONS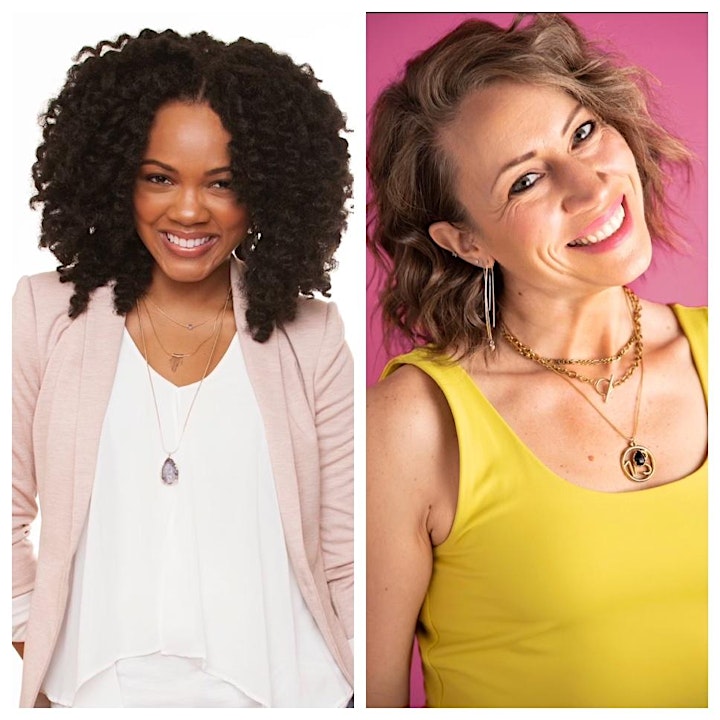 ABOUT YOUR FACILITATORS
Shannon is an east coast raised, turned west coast transplant. Former dancer turned fitness enthusiast, she founded Get Inspired Fitness, LLC a residential fitness company in late 2011 which has served 15+ property management companies across the US. A solopreneur venture left Shannon having a lot of time to manage which eventually led to exploring her own habits and behaviors. She thought working from home running her own company was the dream, and should've made her happy, but she wasn't. She struggled with isolation, emotional eating, addiction, and unhealthy relationships. This launched her into a journey of self exploration, spirituality, and personal development like never before.
Her curiosity and passion for human behavior, spirituality, and helping others lead her to become an executive coach, and a certified Hypnobreathwork® Coach as well after having radically transformative experiences and learning about the power of breath and the subconscious mind.
Shannon uses Hypnobreathwork® & Mindset Coaching to support Creatives & Entrepreneurs to overcome personal and professional challenges by exploring their inner workings in order for them to dream bigger and make it their reality. She loves facilitating transformative experiences for her clients and is dedicated to being a student of this work, life, and dance forever.
Hypnobreathwork® Description:
HypnoBreathwork® is a cutting edge method using breathwork to clear energetic patterns, hypnosis to reprogram subconscious beliefs, and visioning to fire new neural pathways for sustainable behavior change. This unique formula accelerates trance-induced states to heal unprocessed emotions from the root and take intuitive action to create the life you want.
——
Syhaya has obtained over 200hrs as a Registered Yoga Teacher. She specializes in providing themed experiences using focus on chakras, mudras, affirmation and overall transformation. Her original teaching styles started mostly rooted in dynamic Vinyasa flows paired with calming Yin styles. She now also specializes in Yoga Nidra and other various forms of meditation. In addition to classes, Syhaya works one on one with clients to form an individualized yoga study based on their needs.
She started learning Reiki in 2010 while also completing a Health Coaching program at the Institute For Integrative Nutrition. She completed all reiki training levels and has given reiki attunements to attain Reiki Master level. She gives intuitive readings using modalities such as accessing the Akashic Records and using Angel, Tarot, and various oracle card decks. Along with tools such as Journaling, Feng Shui, Healing Crystals, Qi Qong and various forms of meditation, Syhaya coaches individuals to healing through private and group workshop sessions.
ABOUT LIBERATE
More than a yoga studio, Liberate Yourself is a community created for spiritual and magically curious peeps like you! Everything we offer in our space – from infrared saunas to soundbaths, from classes to psychic readings, energy healing and crystals – is dedicated to helping you heal, transform and feel empowered to live your greatest life.
TRY OUR INFRARED SAUNAS
Coming to class? Try our gorgeous, top-of-the-line Infrared Saunas before or afterward for just $30/hour (includes shower time) or $45 for couples. Hot tip: Infrared saunas are included with memberships.
Learn more about our infrared saunas here: https://liberateyourself.com/wellness/infrared-saunas/