Elevate Your Frequencies by Sound Bowls, Intentions & Looking Within
EARLY BIRD: $28 | DAY OF: $33
OR
TWO TICKETS FOR $55 SPECIAL!
Tiffany welcomes you to come unwind from your busy day to day lives. Come take some time for yourself and take a journey within. This class is for those that have never experienced sound bowls to those who are lovers of immersing ones self in healing sound waves.
Submerge yourself in healing frequencies that will align your body, awaken your nervous system, feeling centered, uplifted and energized. Allow the sound bowls to ground, open and balance your chakras running from your root chakra up to your crown chakra.
We'll be outside in the garden that is covered and also has heat lamps. Liberate Yourself has yoga mats, blankets and pillows. Come in comfy clothes, bring extra blankets if you run cold, water, eyemask and whatever else you might want to help you relax.
What to Expect:
Welcome Everyone
Set Intention
Short Breath Work to get Relaxed
Immerse yourself in sound bowl frequencies and music to calm the mind, find inner peace, love and restore balance in your life
-Closing with Check In
This class/event takes place in our outdoor garden that's equipped with space heaters and blankets, please dress accordingly.
PLEASE NOTE: LAST MINUTE CHANGES (SUBS & CANCELLATIONS) ARE SUBJECT TO HAPPEN. PLEASE CALL US IF YOU HAVE ANY QUESTIONS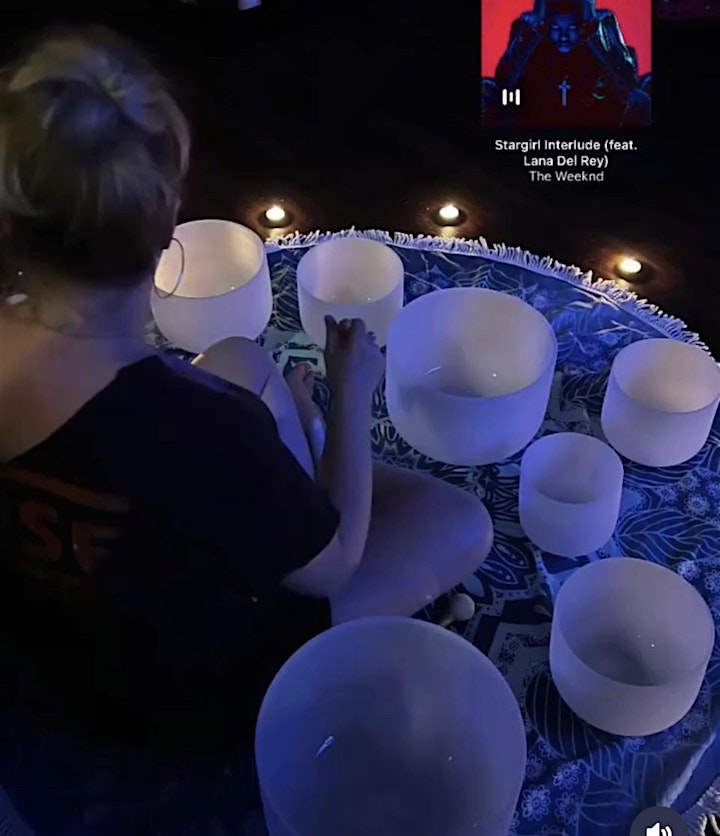 ABOUT TIFFANY
Tiffany is a well rounded individual with a profound spiritual journey. She possesses an unwavering commitment to delving deeper into her inner self and fostering personal growth and evolution. Throughout her ongoing spiritual quest, Tiffany has explored various life changing modalities, including Hypnotherapy, QHHT (Quantum Healing Hypnosis Technique), Sound Bowls, Breath Work, Ayahuasca, Reiki, and she holds a deep passion for KAP (Kundalini Activation Process).
Her profound love for animals fuels her aspiration to incorporate them into her future sound bowl classes. Tiffany's insatiable thirst for spiritual knowledge drives her to continually expand her repertoire, adding more tools to her arsenal for healing, breaking ancestral ties, and guiding others on their path to discovering inner peace and self-love.
CONNECT WITH TIFFANY
ABOUT LIBERATE
More than a yoga studio, Liberate Yourself is a community created for spiritual and magically curious peeps like you! Everything we offer in our space – from infrared saunas to soundbaths, from classes to psychic readings, energy healing and crystals – is dedicated to helping you heal, transform and feel empowered to live your greatest life.
VIEW ALL OF LIBERATE'S EVENTS
We have an incredible number of amazing events on our calendar every month beyond our Wellness Program. Full Moon Circles, Sound Baths, Acupunture Meditation, Cacao Ceremonies, Past Life Regression Journeys and lots, lots more. Check out our full calendar here: