Embodying the Dark Goddess: An Empowering Somatic-Expressive Workshop
EMBODYING THE DARK GODDESS: AN EMPOWERING SOMATIC-EXPRESSIVE WORKSHOP TO RISE INTO YOUR LIGHT with ANA LIZ
SATURDAY, MAY 20TH | 4 – 6:30PM | $44 EARLY BIRD, $53 DAY OF
Embrace your inner darkness to rise into your light with the power of the goddess Kali in this empowering embodiment journey.
Get ready for an illuminating journey of self-discovery and empowerment!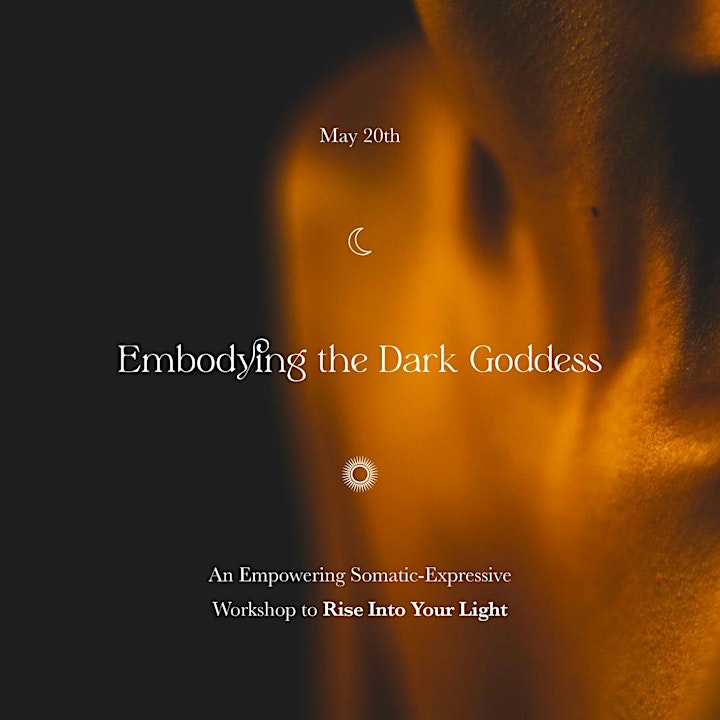 Join me in exploring the power of the fierce Hindu goddess Kali, and discover how her symbolism of transformation, destruction, and rebirth can unlock your inner potential.
In the supportive container of the Movement-Based Expressive Arts and meditation, we will safely delve into the transformative potential of Kali's power and embrace our own darkness as a source of transformation, rebirth, and growth.
Together, we will explore the symbolism of Kali's uncompromising power and fierce imagery, associated with the power of the feminine, and how it relates to our own inner experiences and expressions, moving closer to a state of greater wholeness, authenticity, and inner peace.
Our bodies hold the key to connecting with the creative energy of the divinity within us, and through movement, dance, drawing, and other creative expressions, we will access deeper aspects of ourselves in an exploratory and playful way, peeling layers of conditioning and programming that have kept us from fully accessing our radiance.
Think of the light as an internal state of being that is already within you, waiting to be accessed and expressed. As we creatively embody our darkness, we will emerge into a place of greater understanding and integration, rising into our inner light.
Kali's striking symbolism serves us as a reminder of the strength and potential we all possess within us. By embodying her energy, we can tap into our own inner power, remember our sovereignty, and move towards becoming more completely ourselves.
This exploration and integration is ongoing and asks us for courage and patience, but the rewards are endless. Wherever you are in your journey, join me to delve deeper into the wisdom of your body and embrace the dark power of Kali to rise into your light!
This class/event takes place in our covered outdoor garden that's equipped with space heaters and blankets, please dress accordingly. Events will take place rain or shine.
PLEASE NOTE: LAST MINUTE CHANGES (SUBS & CANCELLATIONS) ARE SUBJECT TO HAPPEN. PLEASE CALL US IF YOU HAVE ANY QUESTIONS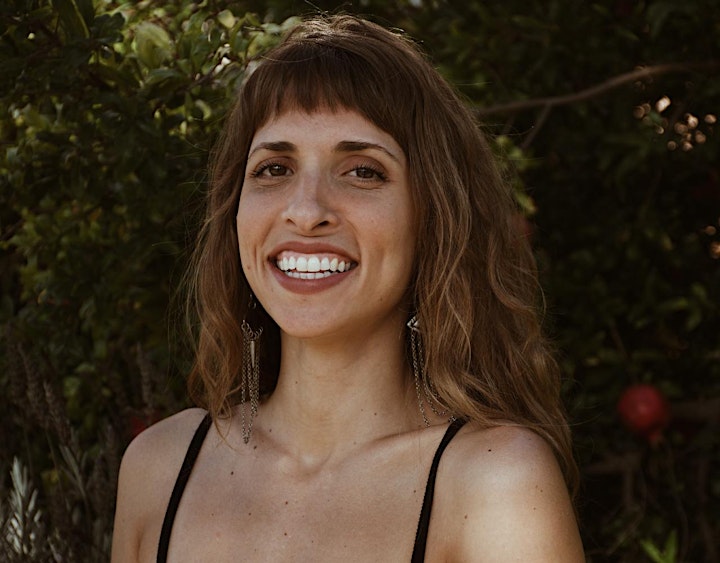 ABOUT ANA LIZ
Brazilian born and Los Angeles based embodiment guide, somatic practitioner, educator, and artist; Ana Liz guides clients to inhabit their bodies and become intimate with their physical, emotional, mental, and psychological universes to support healing and growth.
Ana has deepened her studies of body-mind practices toward healing and personal and spiritual growth for 10+ years. She created Embodied Creatures to share her embodied wisdom authentically and experientially, rooting spirituality and personal development in the body and offering practices to support you beyond the cushion and therapy room. Ana's deep guidance invites you back home to your body, so you can feel whole, connected, and free; becoming empowered to take your well-being into your own hands.
WATCH ANA LIZ on LIBERATE THE PODCAST
The clip above is excerpted from episode 161 of Liberate The Podcast: REDISCOVER YOUR BODY AS THE GROUND OF YOUR SPIRITUAL PATH with Ana Liz Ceregatti. Watch the full episode here: https://youtu.be/rVlZmtzxwvk
ABOUT LIBERATE
More than a yoga studio, Liberate Yourself is a community created for spiritual and magically curious peeps like you! Everything we offer in our space – from infrared saunas to soundbaths, from classes to psychic readings, energy healing and crystals – is dedicated to helping you heal, transform and feel empowered to live your greatest life.
VIEW ALL OF LIBERATE'S EVENTS
We have an incredible number of amazing events on our calendar every month beyond our Wellness Program. Full Moon Circles, Sound Baths, Acupunture Meditation, Cacao Ceremonies, Past Life Regression Journeys and lots, lots more. Check out our full calendar here:
Date
May 20 2023
Expired!
More Info
Location
Liberate Yourself - Sherman Oaks

13323 Ventura Blvd, Sherman Oaks, CA 91423
SIGN UP