Accessing the Power Within Sound Bath
ACCESSING THE POWER WITHIN with DEVON
2ND SUNDAYS OF THE MONTH | 5:30 – 7 PM | $40 OR 2 TICKETS FOR $60!
Have a membership? You can attend this Sound Bath for just a $20 Up charge! Call us at 818-387-6201
Devon invites you to embark on a meditative journey of pure relaxation through guided meditation and sound bowl healing.
Sound bowls activate and energize chakras within your body and work with your individual needs and intentions to align and create a deeper connection internally.
Sound bowl healing helps relieve stress, anxiety, insomnia and will also enhance your state of consciousness, improve mental health and create a deeper understanding and connection to unconditional self-love and inner peace.
Devon looks forward to being a guide on your journey of self-discovery and healing
This class/event takes place in our outdoor garden that's equipped with space heaters and blankets, please dress accordingly.
PLEASE NOTE: LAST MINUTE CHANGES (SUBS & CANCELLATIONS) ARE SUBJECT TO HAPPEN. PLEASE CALL US IF YOU HAVE ANY QUESTIONS
ABOUT DEVON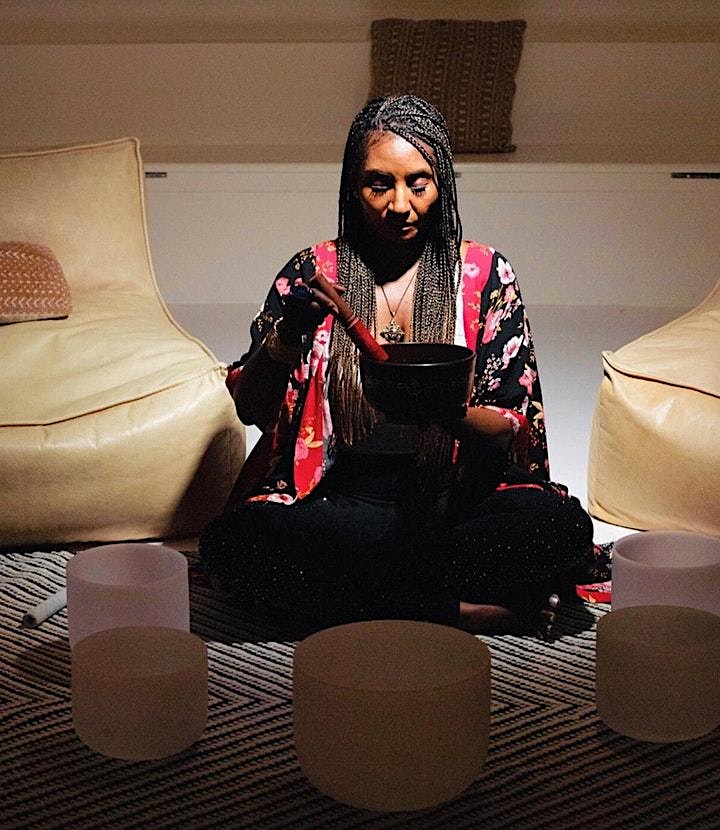 Devon is a spiritual artist and enthusiastic student of continuous learning and personal growth through traditional therapy, intuitive studies, guidance, healing work, and nature.
Devon has had many successful roles throughout her life that have led her into sound bowl healing. Devon participated in a 28 day Global Meditation led by Dr. Shamell Bell of Harvard University and Dartmouth College providing sound bowl healing meditations.
Devon is currently providing weekly sound bowl meditations for the Center for Women's Studies at Colgate University located in New York. She has also provided sound healing meditations for Dartmouth College, Harvard University, Brown University, UCLA, USC, and A3 Artists Agency located in Los Angeles, New York and the UK.
Devon volunteers for LA City Parks and Recreation teaching inner city children ages 6-13 sound healing meditations. She is currently providing sound bath healing meditations for Cultural Interiors located in Los Angeles and is also an instructor for Los Angeles County Parks and Recreation facilitating sound bowl healing meditations.
Her spiritual journey began 3 years ago when she was led to the mountains of Cuenca, Ecuador to study healing work. While on her quest for self-discovery she was called to sound bowl healing.
She looks forward to being a guide on your journey of self-discovery and healing. "There is no greater gift than to heal yourself and help heal others in the process." – Devon
CONNECT WITH DEVON
https://www.youtube.com/channel/UCnACfn-P2Otm5vLdh2uMNJQ
IG: @SacredSoundsByDevon
TESTIMONIALS
Hey Devon. I enjoyed a couple of your sound bath videos on you on YouTube. So relaxing. This is needed so much during these trying times. Thanks again. I forgot your calming voice and singing adds to the experience. You're welcome!!!
Melanie Edmond
Oh we are still feeling the calm from Devon's session!!! I've listened to sound baths before but never live, and this is Mario's first time and he loved it, found it more relaxing than a massage!
Annalise
WATCH DEVON ON LIBERATE THE PODCAST!
Learn more about Devon and her work as a Sound Bath Facilitator in this episode of Liberate the podcast!
ABOUT LIBERATE
More than a yoga studio, Liberate Yourself is a community created for spiritual and magically curious peeps like you! Everything we offer in our space – from infrared saunas to soundbaths, from classes to psychic readings, energy healing and crystals – is dedicated to helping you heal, transform and feel empowered to live your greatest life.
TRY OUR INFRARED SAUNAS
Coming to class? Try our gorgeous, top-of-the-line Infrared Saunas before or afterward for just $30/hour (includes shower time) or $45 for couples. Hot tip: Infrared saunas are included with memberships.
Learn more about our infrared saunas here: https://liberateyourself.com/wellness/infrared-saunas/