Align Sound Bath Meditation
ALIGN SOUND BATH MEDITATION with ADRIENNE BAWA
MULTIPLE DATES | $44
*Have a membership? You can attend this Sound Bath for just a $20 up charge! Call us at 818-387-6201*
Align Sound Bath Meditation provides a group transference of energy through connection, meditation, and sound healing. Each session opens with a group activation circle followed by a guided meditation and lying down sound bath, followed by a short group closing circle.
Bolsters, cushions, mats, and blankets are provided – please just bring your beautiful authentic self.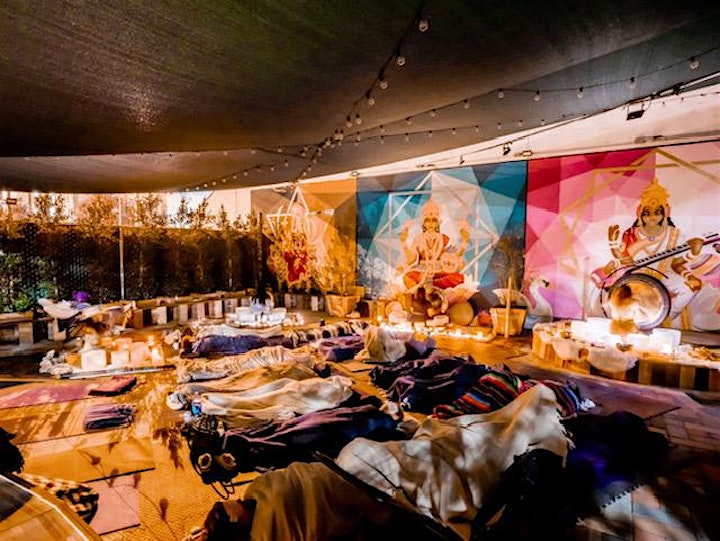 Sound therapy has been utilized for centuries in Eastern culture as a healing modality for greater connectivity and higher spiritual awareness.
A sound bath utilizes different instruments in different pitches and frequencies that vibrate at the same frequencies found in nature and on a cellular level within our bodies. Sound frequency helps to facilitate shifts in our brainwave state by synchronizing our fluctuating brainwaves through providing a stable frequency which the brainwave can attune to. We can train our brainwaves to down-shift our normal beta state (normal waking consciousness) to alpha (relaxed consciousness) and even reach theta (meditative state) or delta (sleep) states in the sound bath.
This class/event takes place in our outdoor garden that's equipped with space heaters and blankets, please dress accordingly.
PLEASE NOTE: LAST MINUTE CHANGES (SUBS & CANCELLATIONS) ARE SUBJECT TO HAPPEN. PLEASE CALL US IF YOU HAVE ANY QUESTIONS
ABOUT ADRIENNE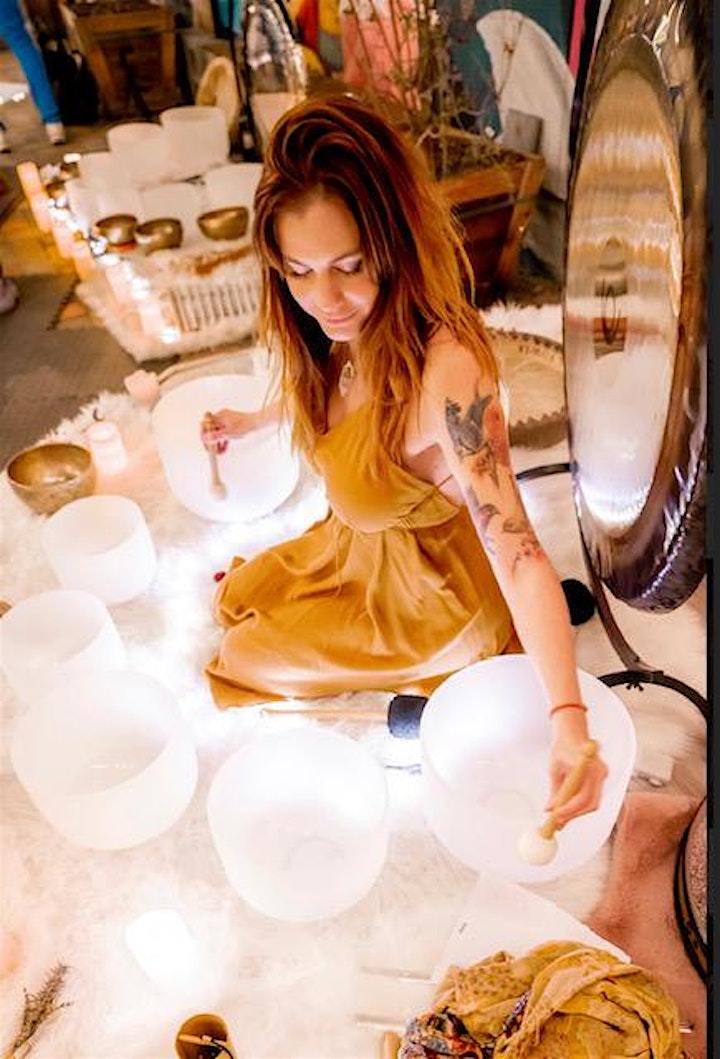 Adrienne is a registered nurse and holistic practitioner who specializes in sound therapy, trauma clearing and somatic experiencing. Adrienne believes in a whole person approach to healing and spiritual fulfillment with maintaining alignment to purpose. In conjunction with her spiritual practice, Adrienne serves as a registered nurse to pediatric patients living with congenital heart disease.
Reviews:
" I felt so Zen and peaceful after your sound bath… when's another?!!" – private client message
" you are so amazing! The sound was transformative and of another world"
"this space is beautiful. Media ration Mondays with Adrienne is the best! It is a sound bath and it was the most amazing experience. My whole body was relaxed and it was such an enlightening experience. I am not one that relaxes easily and I was skeptical but I need this in my life. I am hoping to go every Monday as a treat to myself! I suggest everyone give it a try! You won't regret it"
WATCH ADRIENNE ON LIBERATE THE PODCAST!
Learn more about Adrienne and her work as an RN and a Sound Healing Practitioner in this episode of Liberate the podcast!
ABOUT LIBERATE
More than a yoga studio, Liberate Yourself is a community created for spiritual and magically curious peeps like you! Everything we offer in our space – from infrared saunas to soundbaths, from classes to psychic readings, energy healing and crystals – is dedicated to helping you heal, transform and feel empowered to live your greatest life.
TRY OUR INFRARED SAUNAS
Coming to class? Try our gorgeous, top-of-the-line Infrared Saunas before or afterward for just $30/hour (includes shower time) or $45 for couples. Hot tip: Infrared saunas are included with memberships.
Learn more about our infrared saunas here: https://liberateyourself.com/wellness/infrared-saunas/