IN PERSON | BODY, RESIGNIFIED. Self-image: move from expectations into embodiment and pleasure
BODY, RESIGNIFIED.
Self-image: move from expectations into embodiment and pleasure
FRIDAY, JUNE 24TH | 7PM | $35 EARLY BIRD, $45 DAY OF
In the first of a special 3-workshops series for women*, in which we will explore the body as the key to unlock our potency, get unstuck, and nurture confidence and self-trust to live the life we want, we will work with body-related issues focusing on self-image and self-esteem.
We will work with various art modalities like Movement, Drawing, Writing, and Modern Meditation to explore our relationship with our bodies in a society that constantly oppresses, shames, objectifies, and disavows them.
We will explore psychological narratives that color our perspective on our bodies, identify challenges and personal resources to work with them in an empowered way, and engage in creative ways to challenge the status quo and nurture a fresh, healthy, and sensual relationship with ourselves.
*All women-identifying, non-binary, and gender-fluid folks are welcome.
What you'll bring:
Notebook and pen.
A piece of jewelry or clothing that you love and makes you feel sensual and wild like a goddess.
Anything from nature that you find beautiful: fresh flowers, dried flowers, crystals, rocks, seashells, etc.
Phone camera, polaroid, or digital camera.
Drawing paper and crayons will be provided.
No previous experience with any of the art modalities or meditation is necessary.
Each workshop can be taken individually, but because they were designed as a program to build upon each other, completion of all three will integrate and potentiate the learnings and effects of the work.
"I designed a program for women to explore their relationships with their bodies, challenge the narratives the patriarchy feeds us from birth, retrieve their intuition, and reconnect with their desires to live the life they want with authenticity and confidence. I am excited to offer this in person and as a group. I believe it is urgent that we come together to empower each other and see the strength in ourselves through one another.
The workshops were designed to build upon one another. We begin with the body, our home, and the thing that allows us to experience life. We reflect on our challenges and work to resource ourselves to move from expectations and preoccupation with appearance into embodiment and pleasure. It is about how we feel rather than how we look, so we explore why we feel what we feel. Then, we learn about the memories our bodies hold and how to get in touch with them, exploring intuition. Once we have learned to listen, we will ask ourselves what we really want and explore what keeps us from honoring our desires and how to transform that. By the end of the three workshops, my intention is that participants feel more comfortable inside their bodies, more attuned to how it communicates, and have gained clarity, a sense of self-trust and self guidance, which will help them go after their dreams with full potency! " – Ana Liz
CONNECT WITH ANA LIZ
https://www.embodiedcreatures.com
IG: @analizceregatti
ABOUT ANA LIZ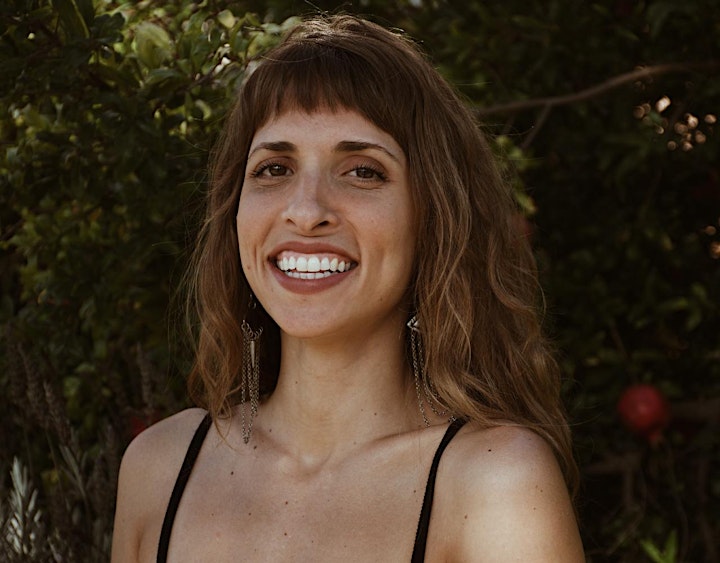 Ana Liz Ceregatti is a certified meditation & mindfulness teacher (IMMA/Accredited CPD Training) and an intermodal artist working at the intersection of art and healing. She specializes in Somatic Mindfulness, Expressive Movement/Dance, and Visual Arts, bringing these practices together to integrate body, mind, heart, and spirit. Through her creative and integrated methods, she facilitates overall healing and well being and supports people experiencing disturbance from trauma, anxiety, depression, grief, and other physical, emotional, and mental challenges.
Ana Liz believes, "By connecting with our bodies and authentic self-expression, we can heal and transform the ways we relate to ourselves, others, and our environment." She works with the particularities of each individual and designs her services to be suitable and enjoyable for anyone, from beginner to experienced.