IN PERSON | Restorative Yoga & Sound Bath with the Sound Sisters
RESTORATIVE YOGA & SOUND BATH with THE SOUND SISTERS – KIRSTEN KOROT & DIANA OSBERG
THURSDAY, AUGUST 25TH | 7 – 8:15 PM | $44
Rest and Recover with Gentle Restorative Yoga and the Soothing Sounds of Crystal & Tibetan Singing Bowls, Gongs,Chimes and other sound healing instruments.
ACCESS DEEP LEVELS OF RELAXATION THROUGH RESTORATIVE YOGA AND SOUND THERAPY. THE COMBINATION OF THESE TWO PRACTICES OPENS YOUR BODY UP TO NEW LEVELS OF DEEP REST, RELAXATION AND HEALING.
This class is suitable for all levels and all ages.
NO EXPERIENCE NEEDED FOR THIS GENTLE YOGA PRACTICE
Diana will guide you into easy, supported floor poses that will let you relax your muscles, slow down your breathing, turn off the release of stress hormones, come into the present moment, and allow for deep rest.
While resting in the restorative yoga poses, Kirsten will guide you into deeper relaxation with various sound healing instruments and bring sound healing instruments around participants to help relax and deepen your poses.
We'll conclude with a blissful Savasana sound bath with the Sound Sisters – Kirsten and Diana to sink even deeper into rest and relaxation.
PLEASE be sure to read below on HOW TO PREPARE and WHAT TO BRING for this class.
WHAT TO EXPECT:
You'll lie on the floor and rest in long-held floor poses to encourage the mind and body to drop into a state of deep relaxation and meditation. You'll use blankets and pillows to support you and allow your muscles to relax completely.
WHAT TO WEAR: Loose, comfortable clothing that will allow you to lie on the floor. Dress for comfort.
WHAT TO BRING: We will have yoga mats, blankets and pillows available.
Feel free to bring an extra blanket or pillow or whatever you need to be cozy for the sound bath.
Bring water to hydrate yourself.
If you feel sick or have been exposed to someone with Covid please contact us and do not attend.
BENEFITS OF RESTORATIVE YOGA AND SOUND HEALING:
Less stress, better ability to relax
Balanced nervous system
Improved sleep
Enhanced feeling of well-being
Reduced anxiety, depression, and mood disorders
Relief from musculoskeletal pain
Stronger connective tissues around the bones and joints
SOME RECENT TESTIMONIALS:
"I have to tell you that this sound bath really went through my body. I felt the same way I felt the first time at your session – like I really needed it. I had a sinus head ache immediately afterwards and my eyes were tearing during. I drank a couple large glasses of water, like you've said to. I knew exactly what it was as you went through the chakra sounds and I can't tell you how wonderful it felt to have such positive energy again. You have a gift, my friend."
"Thank you. I absolutely loved the class. Please let me know when schedule another session."
"Thanks for bringing us such a lovely experience. It was very soothing and relaxing! Definitely will attend more events"
About Kirsten Korot: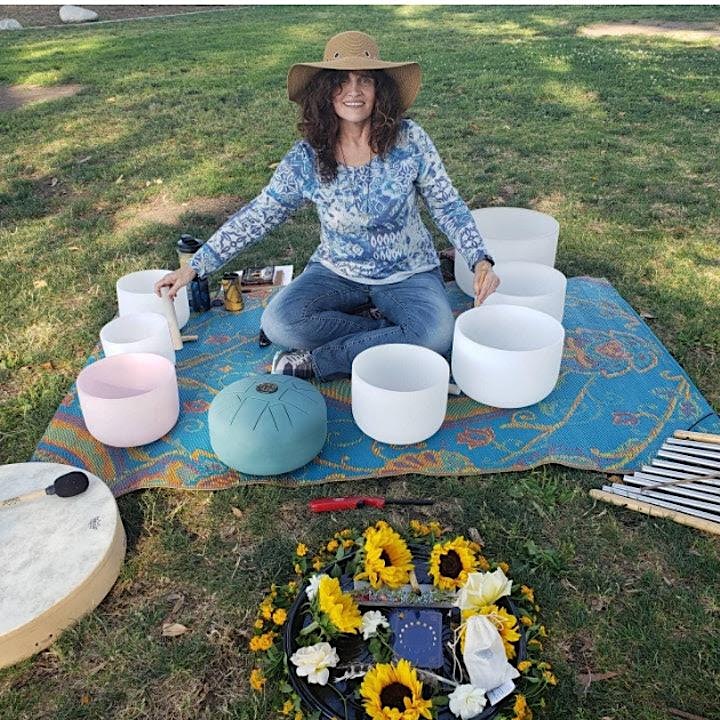 Kirsten is a certified sound healing practitioner and intuitive wellness and mindfulness coach. She is also a certified moonologer through Hay House and offers monthly online and in person Women's Moon Circles and private Moon Sessions. Kirsten founded Nature Nurture Experiences in 2012 to connect people with the healing power of nature, sound healing, animals and mindfulness practices. Kirsten is known for her Healing Day & Sound Bath with Wolves and her Sound Baths for People and their Dogs recently featured in the Netflix series "PET STARS" and an upcoming series with Pollution TV. In addition to online and in person classes on Zoom and You Tube, Kirsten provides private, group and has provided corporate wellness sessions for companies like CNN, WarnerMedia, Cartoon Network and Lululemon.
https://www.kirstenkorotinternational.com
Facebook and Instagram @kirstenkorotinternational
About Diana Osberg: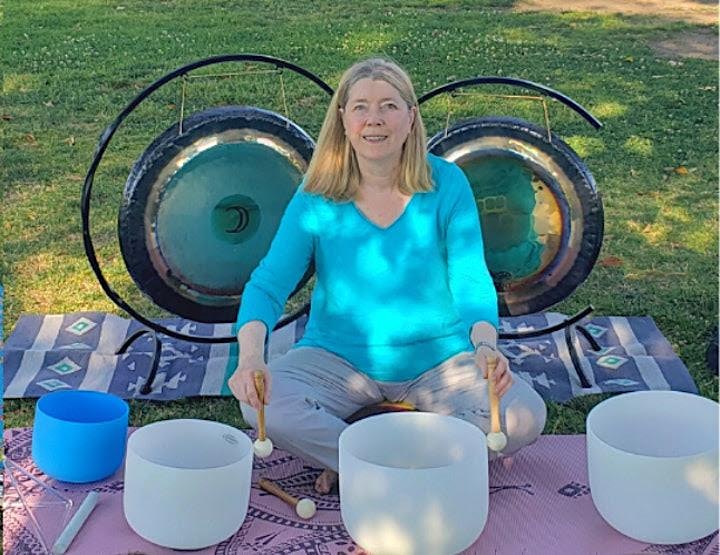 Diana Osberg is certified as a soundbath practitioner and a Yin and Restorative yoga and sound healing medicine teacher, focusing on Traditional Chinese Medicine meridians, nervous system response, anatomy, and alignment. She is trained in Sudarshan Kriya breathwork and teaches mindful breathing, meditation, body tapping, and acupressure massage, is a wellness and mindfulness coach, provides corporate wellness programs, and is founder of Inner Story Retreats. Diana originated the dance style Qi Beats and Body Drumming, based on the practice of Qigong. In addition to teaching classes for Inner Story Retreats, she teaches for Bindupoint Center for Presence and Liberate Yourself.
https://innerstoryretreats.com
Facebook and Instagram @innerstoryretreats