IN PERSON | SKY Breathing for Mind-Body Wellbeing with Diana Osberg
Harmonize the natural rhythms of your body and experience better wellbeing through the practice of SKY Breathing.
SKY BREATHING FOR MIND-BODY WELLBEING with DIANA OSBERG
SATURDAY, DECEMBER 4TH | 11 AM – 12 PM | $20
Learn the art of Sudarshan Kriya Yoga or SKY Breathing with Diana Osberg. Diana will guide you through a full Sudarshan Kriya practice to give an introduction for those who are new to the practice and to support and encourage the continued practice of SKY Breathing for those who are already familiar with the technique.
Sudarshan Kriya harmonizes the natural rhythms of the body, mind, and emotions with those of Nature. Being in sync, we experience better health and joy which in turn brings harmony in our activities and relationships.
Breathing is the first act of life. Within the breath is the unexplored secret of life.
Breath is the main source of prana – the vital life-force energy. Prana is the very basis of health and wellbeing for both the mind and body. When the prana is high, you feel healthy, alert, and energetic. Sudarshan Kriya elevates the prana by flushing out more than 90% toxins and accumulated stress every day.
When you practice Sudarshan Kriya, you tap into the rhythm of your breathing and release toxins through your exhale. This technique helps you take control of your breath to bring about a change in your mental health and wellbeing. It helps you reduce negative elements such as stress, anxiety, and depression, and improves immune function, hormonal balance, and mind-body connection.
What Is Sudarshan Kriya Yoga (SKY)?
SKY is a unique yogic breathing practice that involves several types of cyclical breathing patterns, ranging from slow and calming to rapid and stimulating. "Sudarshan" refers to a positive state of mind and "Yoga" means purification. Sudarshan Kriya is all about controlling your mind through regulated breathing, which ultimately leads to improved wellness through purification of mind and body.
Benefits of Sudarshan Kriya Yoga:
When you practice Sudarshan Kriya regularly, you will gradually develop an ability to maintain an uncluttered mind and may experience enhanced brain function.
A regular practice of SKY Breathing helps you release mind chatter, balance your nervous system, and flush out toxins. It will benefit anyone who experiences anxiety, is easily stressed, or suffers a medical condition like diabetes. Sudarshan Kriya will improve the respiratory system, neurological system, and circulatory system, and reduce the effects of environmental pollution, dietary disorders, or a sedentary lifestyle.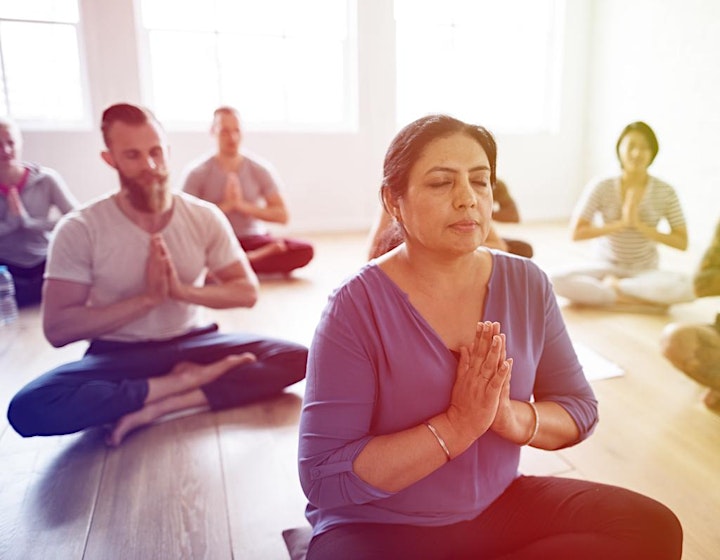 At-A-Glance Benefits:
• Relieves stress, anxiety, insomnia, depression, and PTSD
• Increases awareness and management of emotions
• Studies suggest it may have a preventive role against cancer
• Enhances life force energy (prana/qi)
• Harmonizes the whole system
• Lowers cortisol and balances hormones
• Stimulates the intellect and keeps the mind more aware and alert
• Removes toxins and free radicals from the body
• Strengthens the muscles of respiration and improves the volume and capacity of the lungs
• Enhances sleep quality
• Increases energy levels and strengthens the immune system
• Enables you to think more creatively and increases brain function
• Helps you achieve internal peace
• Your personal relationships will become more joyful, harmonious, and love-filled
• You will become more confident and patient
• Realize a more balanced mind-body connection
• Positive effect on overall mental well-being
Contraindications: Pregnant women, people who have had recent surgery, and people suffering from extreme mental illness and substance abuse should avoid practicing Sudarshan Kriya Yoga.
ABOUT DIANA OSBERG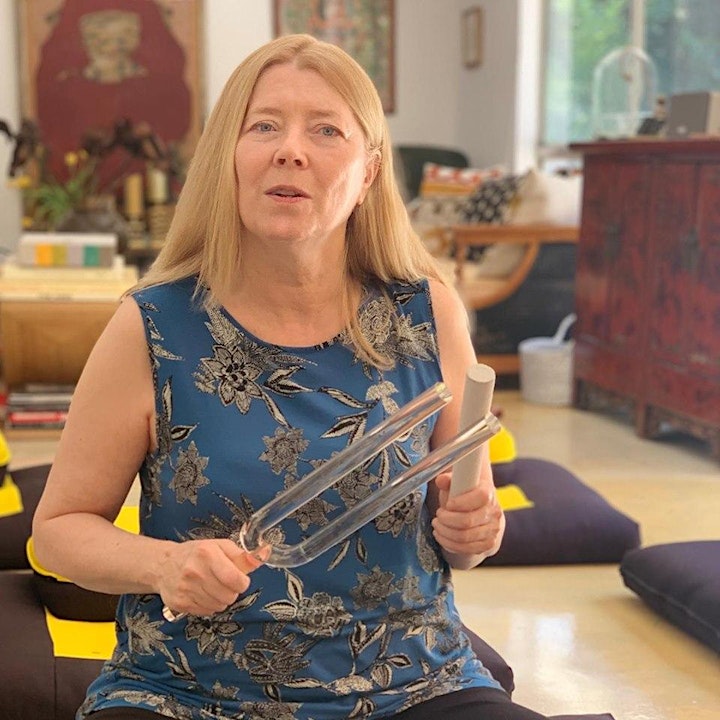 Diana Osberg studied Sudarshan Kriya Yoga at the Art of Living Center in Los Angeles, founded by Sri Sri Ravi Shankar, who also founded the practice of Sudarshan Kriya. Diana is certified as a Yin and Restorative yoga and sound healing medicine teacher, focusing on Traditional Chinese Medicine meridians, nervous system response, anatomy, and alignment and is trained in Qigong. She teaches mindful breathing, Yin and Restorative yoga, meditation, body tapping, and acupressure massage, is a Mindfulness and Wellness life coach, and is founder of Inner Story Retreats.