IN PERSON | Yoga For Well Being
YOGA FOR WELL BEING with KYAN RIOS
Tuesdays | 8PM | $25
This class is designed to restore and nurture bodies by releasing tension, stress, stiffness and stuck energy. Applications of Yin, Restorative and slow-flow Vinyasa yoga is the foundation to 'Yoga for well being'. Majority of the class will be spent in long hold postures (seated or laying down) as well as short repetitions of movements to warm up the body and activate energy flow.
This is a mixed level class, welcoming to beginners and encourage students to work at their own pace and level.
**We encourage practitioners to bring their own yoga blocks, blankets, bolsters and straps 'IF' they own their own
ABOUT KYAN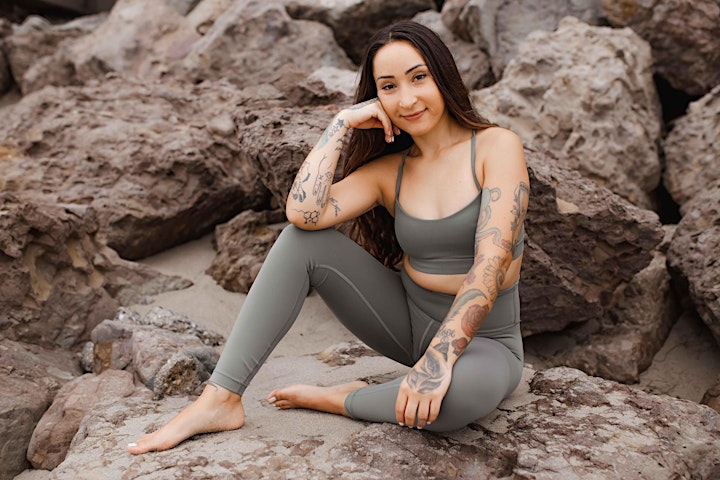 Kyan is a local Yoga instructor and FRC Mobility specialist who serves and grew up in the San Fernando Valley/LA area. Her teaching journey started over 3 years ago when she received her 200hr certification in yoga, closely followed by her Kinstretch, FRC certification and has additional trainings in Meditation, Ayurveda, Pranayama (breathwork), advanced sequencing and energetic anatomy. Kyan is currently halfway through her 300hr yoga teacher training and has plans to continue to deepen her education.
As a child, Kyan spent most of her time in nature; exploring outdoors, being active and playing sports. Aside from when she is not instructing, she enjoys cooking and making art. She has a HUGE love for animals and traveling. Her name comes from a South-American rainforest tribe, that means energy or spirit.
Website: www.mindfuldhyana.com
Instagram: @Mindfuldhyana
Testimonials:
"Kyan is truly a special yoga teacher. Her energy is both grounding and healing. Her sequencing is well thought out, dynamic, challenging, and keeps you out of your head. She is incredibly patient, warm, kind, and loving – all qualities that she brings to her teaching. Kyan weaves her incredible knowledge for the practice into her classes. It also doesn't hurt that her playlists are incredible. She is pure magic and if you are lucky enough to take her classes you will know just what I mean!"
-Missy Beck, Psychotherapist, Empowerment Coach and RYT
"Kyan brings an extremely unique style to the table. If your practice is looking for an incorporation of mobility-work, breath-work, as well as an overall unique and strong flow, Kyan is the teacher to take. Kyan is one of the most authentic and genuine teachers I have been able to meet and practice from. It is very special to be able to have your practice grow under a teacher who truly creates and designs her class for her students. "
-Justin Mohrsaz, Yoga Instructor and X-Ray Technologist
"Walking into Kyan's classes feels like a breath of fresh air. She is my go-to instructor and I wouldn't skip a beat to experience her creative vinyasa sequences. On several occasions, she has provided me with the proper guidance to deepen my practice and grow in my flexibility, even as an advanced practitioner. Her anatomical intelligence and incorporation of meditation leads her students to success both on and off the mat. To know this woman is to love her, I highly recommend her services."
-Alyssa Durant, Journalist and RYT-200