Integrative Embodied Meditation for Somatic Healing & Empowerment with Ana Liz
INTEGRATIVE EMBODIED MEDITATION FOR SOMATIC HEALING & EMPOWERMENT with Ana Liz
As a part of Liberate's Wellness Program, this class is included with Membership.
PRICE:
A whole-body experience that amplifies your embodied presence, and facilitates somatic healing and personal empowerment.
Designed to bring you into your body on all levels – physical, emotional, and mental – through embodiment, this guided practice brings you into the present moment to access your inner wisdom and life force. Ana Liz combines somatic awareness, gentle movement, light breathwork, and guided mindfulness in this unique class.
You'll leave this class with:
– A deeper ability to foster a personal environment conducive of relaxation, clarity, and energy flow
– Feeling reconnected to the authentic you underneath the layers of physical tension, emotional baggage, and mental chatter
– Tangible tools to incorporate into your daily life
Suited for all levels. From the first session, deepen self-connection and broaden understanding of how your physical body, mind, and emotions communicate. Practice regularly to experience expanded consciousness, greater self-intimacy, and more autonomy in your life.
*Classes are suited for all healthy individuals. If you have any chronic or acute health issues, we advise you to speak to a healthcare professional before your first session. We do not recommend some breathwork practices if you suffer from high blood pressure related with prescription medication, coronary heart disease, epilepsy, or have a history of severe health issues such as heart attack or stroke. If you are pregnant, we'll offer appropriate modifications. Please let us know of any conditions prior to the beginning of class.
*Contact Ana Liz Ceregatti with any questions: [email protected] / IG: @analizceregatti @embodiedcreatures / www.embodiedcreatures.com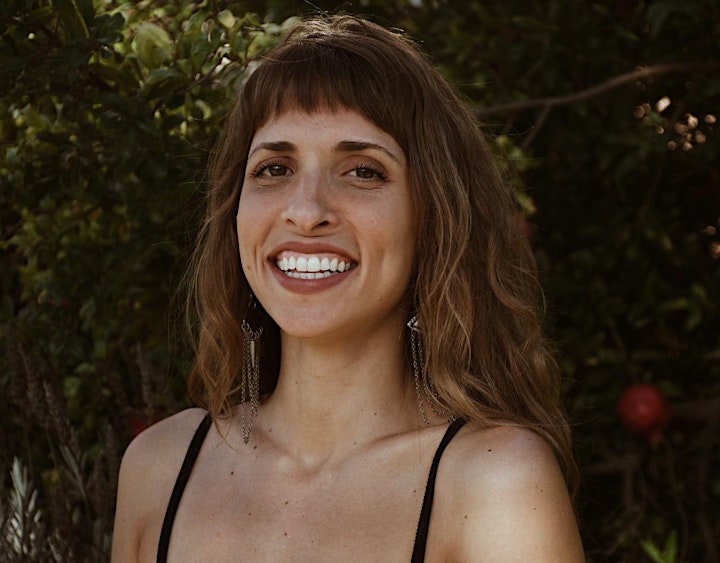 ABOUT ANA LIZ
Brazilian born and Los Angeles based embodiment guide, somatic practitioner, educator, and artist; Ana Liz guides clients to inhabit their bodies and become intimate with their physical, emotional, mental, and psychological universes to support healing and growth.
Ana has deepened her studies of body-mind practices toward healing and personal and spiritual growth for 10+ years. She created Embodied Creatures to share her embodied wisdom authentically and experientially, rooting spirituality and personal development in the body and offering practices to support you beyond the cushion and therapy room. Ana's deep guidance invites you back home to your body, so you can feel whole, connected, and free; becoming empowered to take your well-being into your own hands.
WATCH ANA LIZ on LIBERATE THE PODCAST
The clip above is excerpted from episode 161 of Liberate The Podcast: REDISCOVER YOUR BODY AS THE GROUND OF YOUR SPIRITUAL PATH with Ana Liz Ceregatti. Watch the full episode here: https://youtu.be/rVlZmtzxwvk
ABOUT LIBERATE
More than a yoga studio, Liberate Yourself is a community created for spiritual and magically curious peeps like you! Everything we offer in our space – from infrared saunas to soundbaths, from classes to psychic readings, energy healing and crystals – is dedicated to helping you heal, transform and feel empowered to live your greatest life.
VIEW ALL OF LIBERATE'S EVENTS
We have an incredible number of amazing events on our calendar every month beyond our Wellness Program. Full Moon Circles, Sound Baths, Acupunture Meditation, Cacao Ceremonies, Past Life Regression Journeys and lots, lots more. Check out our full calendar here:
https://liberateyourself.com/calendar/