Kundalini Chakra Flow
Are you ready to embark on a transformative journey of mind, body, and soul? Join us in this invigorating and soul-nourishing hour-long class that seamlessly weaves together the best of Kundalini Yoga, Chakra Yoga, Meditation, and Vinyasa Flow. Get ready to awaken your inner energy centers and harmonize your being in a way that will leave you feeling empowered, grounded, and blissfully balanced.
🧘‍♀️ Kundalini Awakening: We'll kick off the class by tapping into the powerful Kundalini energy. Through breathwork and dynamic postures, you'll activate your life force, promoting clarity, creativity, and vitality.
🌈 Chakra Balancing: Explore the subtle energy centers within your body, known as chakras. You'll learn how to align and balance these energy wheels, allowing you to experience emotional equilibrium and a deep sense of inner harmony.
💃 Vinyasa Flow: To conclude, we'll flow into a graceful Vinyasa sequence. This will help you to embody & express the rise of your kundalini energy throughout your body.
Soothing Savasana-
You will be led into a deep relaxation harnessing the serenity you've cultivated throughout the class, leaving you feeling physically energized and mentally tranquil.
✨ Who Is This Class For? ✨
This class is open to all levels, from beginners to experienced yogis. Whether you're a mother seeking a moment of serenity or an artful soul looking to expand your practice, this class welcomes you with open arms.
Don't miss out on this captivating blend of ancient wisdom and modern flow. Join us for a class that's not just about yoga but a holistic experience for body, mind, and spirit. Let's embark on this magical journey together!
ALL LEVELS WELCOME!
As a part of Liberate's Wellness Program, this class is included with Membership.
PRICE:
This class/event takes place in our covered outdoor garden that's equipped with space heaters and blankets, please dress accordingly. Events will take place rain or shine.
PLEASE NOTE: LAST MINUTE CHANGES (SUBS & CANCELLATIONS) ARE SUBJECT TO HAPPEN. PLEASE CALL US IF YOU HAVE ANY QUESTIONS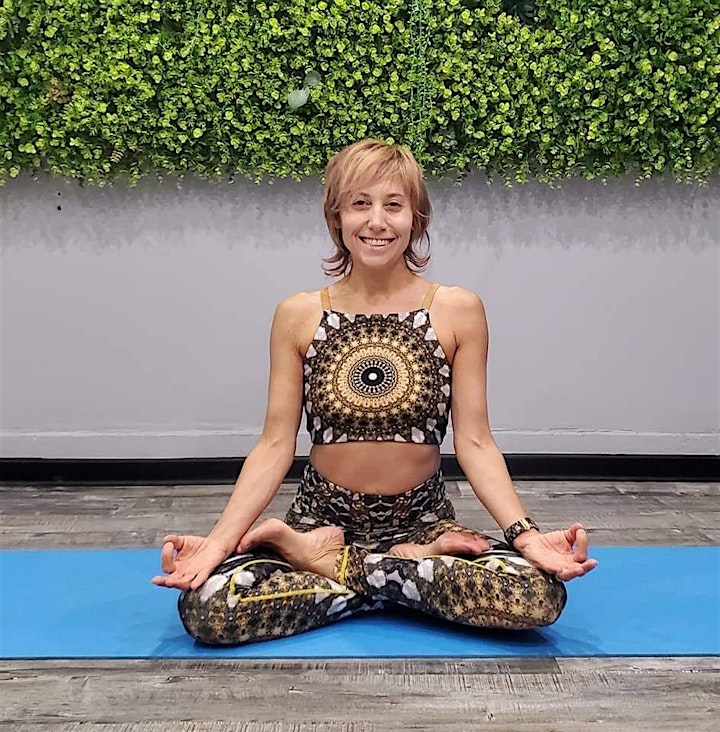 ABOUT IVY
Meet Ivy Glass: Your Radiant Yoga Guide and Visionary Coach Ivy Glass shines as your guiding light on the path to inner peace through yoga. Over 15 years ago, she made the transformative choice of yoga over medication, igniting a profound journey of self-discovery. With over 300 hours of yoga certifications, spanning vinyasa, children's, and prenatal yoga, and as a level 2 reiki practitioner, she infuses a spiritual depth into her teaching. While Ivy teaches many classic styles of yoga, she has created two unique yoga fusions that can meet anyone on their yoga journey. Her signature style, Kundalini Vinyasa Flow, combines ritual, chakra yoga, breathwork, meditation, and the raising of one's kundalini, all expressed with dynamic vinyasa movements. For those seeking to infuse their yoga practice with fun for all ages, Ivy offers Disco Yoga, a playful yoga experience featuring dynamic movements, vinyasa flow, partner/group poses, disco dance breaks, and live DJ music. Beyond the yoga mat, Ivy has embraced the role of a Visionary Coach. Certified in Quantum Coaching, she's on a mission to transform and awaken women, especially mothers, from the slumber of unfulfilled dreams. Ivy empowers everyone to live life fully awake, embodied, and expressed, infusing her coaching wisdom into her yoga classes. Ivy Glass believes in yoga as a fundamental key to happiness. Join her radiant journey today and let each asana, each breath, and each moment guide you to the blissful essence of your true self. The time is now!
CONNECT WITH IVY
ABOUT LIBERATE
More than a yoga studio, Liberate Yourself is a community created for spiritual and magically curious peeps like you! Everything we offer in our space – from infrared saunas to soundbaths, from classes to psychic readings, energy healing and crystals – is dedicated to helping you heal, transform and feel empowered to live your greatest life.
VIEW ALL OF LIBERATE'S EVENTS
We have an incredible number of amazing events on our calendar every month beyond our Wellness Program. Full Moon Circles, Sound Baths, Acupunture Meditation, Cacao Ceremonies, Past Life Regression Journeys and lots, lots more. Check out our full calendar here:
https://liberateyourself.com/calendar/
TRY OUR INFRARED SAUNAS