An Evening of Sankirtan with Raas Leela Kirtana! (Livestream)
AN EVENING OF SANKIRTAN with RAAS LEELA KIRTANA!
3RD SATURDAYS OF THE MONTH | 8 – 10PM | $20 SUGGESTED DONATION
Please join LA based original Kirtan band Raas Leela Kirtana for an uplifting Sankirtan at the beautiful Liberate Yourself space in Sherman Oaks on the third Saturday of the month at 8 pm! Kirtan chanting is an ancient spiritual and meditative practice from the bhakti yoga tradition of India which helps to open up the heart fully to receive the love of the Divine.
"The Sankirtans or musical gatherings are an effective form of yoga or spiritual discipline, necessitating intense concentration, absorption in the seed thought and sound. Because man himself is an expression of the Creative Word, sound exercises on him a potent and immediate effect. Great religious music of the East and West bestows joy on man because it causes a temporary vibratory awakening of one of his occult spinal centers. In those blissful moments a dim memory comes to him of his divine origin" -Paramahansa Yogananda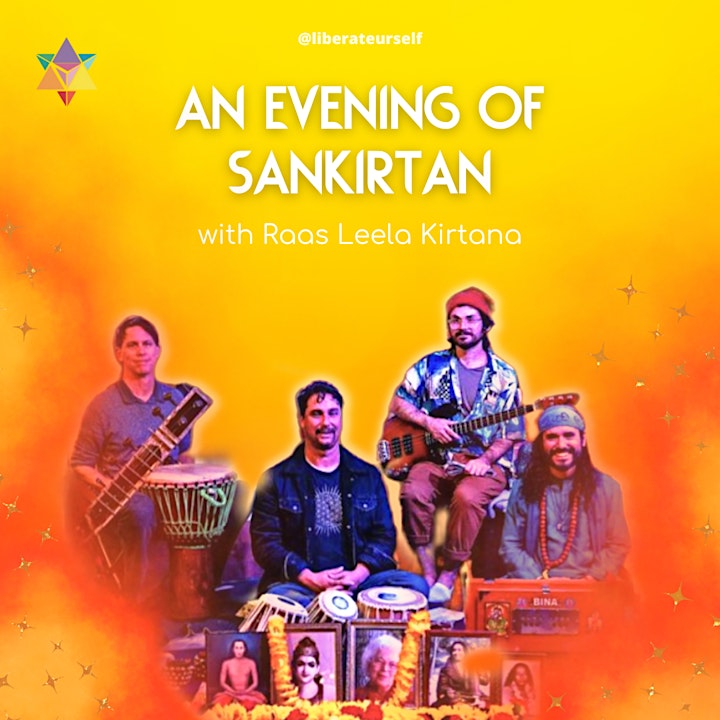 WATCH GOPALA BHAKTA ON LIBERATE THE PODCAST!
Learn more about devotional chanting and Kirtan from Gopala Bhakta, a member of Raas Leela Kirtana, in this episode of Liberate the podcast!
ABOUT LIBERATE
More than a yoga studio, Liberate Yourself is a community created for spiritual and magically curious peeps like you! Everything we offer in our space – from infrared saunas to soundbaths, from classes to psychic readings, energy healing and crystals – is dedicated to helping you heal, transform and feel empowered to live your greatest life.
VIEW ALL OF LIBERATE'S EVENTS
We have an incredible number of amazing events on our calendar every month beyond our Wellness Program. Full Moon Circles, Sound Baths, Acupunture Meditation, Cacao Ceremonies, Past Life Regression Journeys and lots, lots more. Check out our full calendar here:
https://liberateyourself.com/calendar/
TRY OUR INFRARED SAUNAS
Coming to class? Try our gorgeous, top-of-the-line Infrared Saunas before or afterward for just $30/hour (includes shower time) or $45 for couples. Hot tip: Infrared saunas are included with memberships.
Learn more about our infrared saunas here: https://liberateyourself.com/wellness/infrared-saunas/