LIVESTREAM | Biofield Tuning: Group Sound Healing
BIOFIELD TUNING: GROUP SOUND HEALING with APPELUSA
SUNDAY, SEPTEMBER 12TH | 5:30 – 7PM – Opening the Front Chakras
**THIS EVENT IS AVAILABLE BOTH LIVESTREAM AND IN PERSON. FOR IN PERSON TICKETS VISIT: https://events.humanitix.com/in-person-or-biofield-tuning-group-sound-healing?_ga=2.23572666.1490238338.1630010787-617196476.1627599076**
Biofield Tuning is a physics based approach to healing using coherent sound waves outside the body to facilitate a change. Biofield Tuning is based on the premise that the human biofield – the energy field that surrounds and permeates our bodies – is inextricably connected with our conscious and subconscious mind, including all of our memories. All physical, mental and emotional disorders can be perceived as 'dissonance' in our energy fields. Biofield Tuning is able to diminish and resolve this dissonance and in doing so, alleviate and even eradicate the corresponding physical, mental and/or emotional symptoms.
This sound healing is a seated or lie down hour long session during which audible and inaudible frequencies will be used.
It is generally advised to not have had alcohol and very little caffeine prior to the session.
By purchasing a ticket and attending this session in person or via live stream, you understand the contraindications below and take full responsibility for your own participation and any health effects of the tuning. Please contact us if you have any questions or concerns. [email protected]
Side effects are uncommon but may occur post tuning which may include: headache, energy changes, cold like symptoms, release of emotions.
Contraindications:
Biofield Tuning is not advised for individuals who are extremely ill as it may create a strong healing response in the system. As the body releases tension, any toxins that have been held in constricted tissue are released which has the capacity to produce flu-like symptoms, exhaustion, waves of emotion, loose stools and in extreme cases (very rare) rashes and vomiting. Cancer, pregnancy, palliative care, and pacemakers are contraindicated in Biofield Tuning.
ABOUT APPELUSA: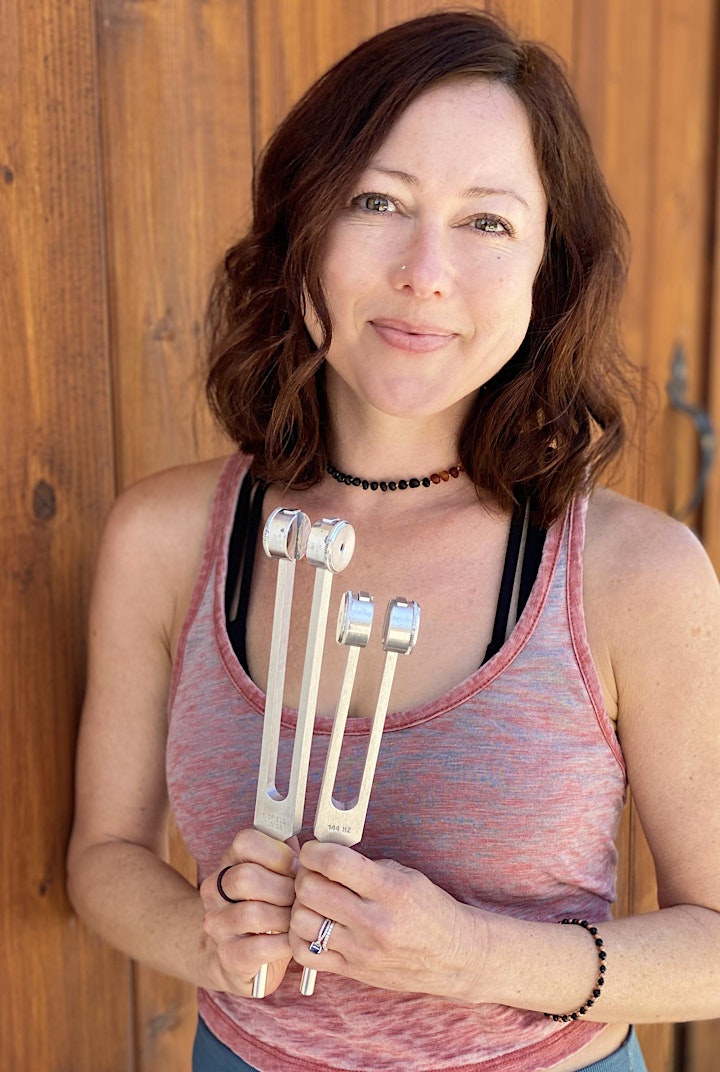 Appelusa is a bronze medal world champion artistic roller skater and USA Roller Sports certified coach. For over 20 years Appelusa trained athletes and beginners alike, spawning regional and national champions.
In 2015, Appelusa suffered a severe whiplash and lumbar injury. What resulted was countless visits to specialists, as well as scans and invasive procedures that frankly didn't help. After several years of chronic pain, she turned to alternative medicine. She became Reiki certified so she could work on healing herself. She developed a home practice, changed her thought patterns, re-trained her nervous system, and then finally started to heal. Appelusa became fascinated with the biofield, physics and biohacking and continually researches the science behind the modalities she uses. Understanding the incredible intelligence system of the body is Appelusa's life goal. As Ayurveda teaches, in order to support others in their healing, you must authentically engage in our own.
As a bioenergetic practitioner, Appelusa studies the body and its energetic processes. In bioenergetic theory, it is believed that the body and the mind function together and are functionally identical (meaning what happens in the mind reflects what is happening in the body and vice versa.) She is currently certified in Biofield Tuning, Vibrational Fascia Release Technique, Biofeedback, and Reiki, and is pursuing her higher education degrees at Maharishi International University studying Ayurveda and Consciousness and Human Potential.