MAGICAL NEW YEAR'S EVE: HEALING SOUND BATH, CANDLE MAGIC, MINDSET HYPNOSIS & BURNING MANIFESTATION RITUAL TO RING IN 2023!
SATURDAY, DECEMBER 31ST | 7PM | $111 EARLY BIRD, $144 WEEK OF
Come join Liberate and ring in the new year with an evening full of our most on-demand workshops!
7PM – WELCOMING + MINDSET HYPNOSIS MEDITATION with FOUNDER CRISTINA DAM
ABOUT CRISTINA
Cristina loves helping people transform their lives. Fascinated with hypnosis since she was a child, she would make-believe-hypnotize friends and family members. As an adult, her interest grew serious when she saw the incredible results of hypnotherapy as compared with traditional therapy. She went on to study Hypnotherapy at the Hypnosis Motivation Institute, the only accredited hypnotherapy school in the nation. Cristina holds Masters degrees in both Psychology and Educational Foundations and is a Certified Addiction Treatment Specialist.
She designed and implemented a prevention rehabilitation program for inner-city youth at juvenile correctional institutions in Los Angeles County, and has worked with adult prison inmates to reduce the recidivism rate upon their release into society. A multi-faceted healer, she has studied countless alternative modalities and is especially skilled in NLP (Neuro-linguistic Processing), Pranic Healing, Reiki and Meditation.
A perpetual student of The World, Cristina is always challenging herself to learn and try new things. In addition to owning, operating and practicing at Liberate Emporium and Liberate Hollywood, she is the founder of the tech travel start-up company Xplorer and her own non-profit organization Motivate Humanity. Last but certainly not least, she is a writer and producer of many conscious media projects in hopes of positively impacting society, most notably the franchise film animated series Trekkie, which is dedicated to building wildlife reserves around the world.
No matter what it is you're seeking to transform, Cristina can set you on the path to freedom. She gets to the root of mental, emotional, physical and financial struggle. With a gift for getting into your unconscious mind, Cristina will effectively change the way you think, behave, and live your life. Get ready for big, positive change!
CANDLE MAGIC BAR: Your ticket includes 1 candle, metaphysical herbs, oils and mini crystals to match your intention for 2023 from our Candle Magic Bar ✨ Instructions for a beautiful, magical and simple ritual will be provided for anyone looking for ritual guidance, otherwise, feel free and encouraged to work your candle magic however feels most magical and powerful to you! Visit the Candle Magic Bar at any point during the evening to dress and bless your candle. Light your candle tonight at any point that feels right to you, or take it home and light it in your own private ceremony. We gently suggest visiting the Candle Magic bar earlier in the evening to avoid lineups and you being delayed for any event 🙏 BEST TIMES FOR VISITING THE CANDLE MAGIC BAR: 8:00 – 8:30 PM (after Mindset Hypnosis Meditation, before Sound Bath), and 9:30 – 10:30 pm (during dinner break – after Sound Bath, before Burning & Manifestation Ritual).
8:30PM – ALIGN SOUND BATH MEDITATION with ADRIENNE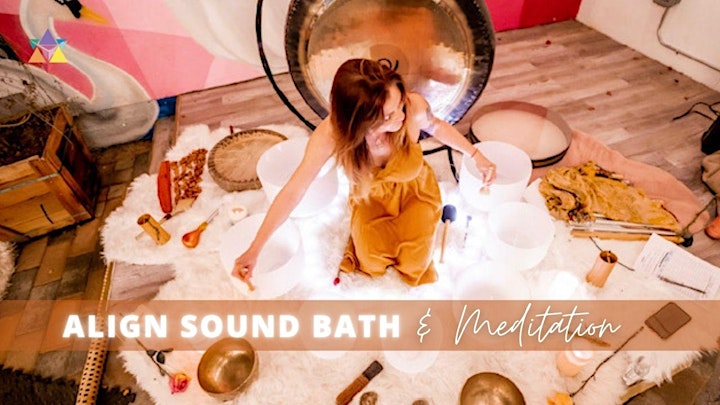 Align Sound Bath meditation provides a group transference of energy through connection, meditation and Sound Healing. Each session opens with a group activation circle followed by a guided meditation and lying sound bath followed by a short group closing circle. Bolsters, cushions, mats and blankets supplies provided – please just bring your beautiful Authentic self.
Sound therapy has been utilized for centuries in Eastern culture as healing modalities, connectivity and higher spiritual awareness. A Sound bath utilizes different instruments in different pitches and frequencies that vibrate at the same frequencies found in nature and on a cellular level within our bodies. Sound frequency helps to facilitate shifts in our brainwave state by synchronizes our fluctuating brainwaves by providing a stable frequency which the brainwave can attune to. We can entrain our brainwaves to down-shift our normal beta state (normal waking consciousness) to alpha (relaxed consciousness), and even reach theta (meditative state) and delta (sleep).
ABOUT ADRIENNE:
Adrienne is a registered nurse and holistic practitioner who specializes in Sound Therapy, trauma clearing and Somatic experiencing. Adrienne believes in a whole person approach to healing and spiritual fulfillment with maintaining alignment to purpose. In conjunction with her spiritual practice, Adrienne serves as a registered nurse to pediatric patients living with congenital heart disease.
BREAK FOR FOOD + NON-ALCOHOLIC BEVERAGES WILL BE PROVIDED!
10:30PM – A LOOK BACK AT 2022 & INTENTION SETTING FOR 2023 + BURNING RITUAL & CEREMONY with REV DOREENE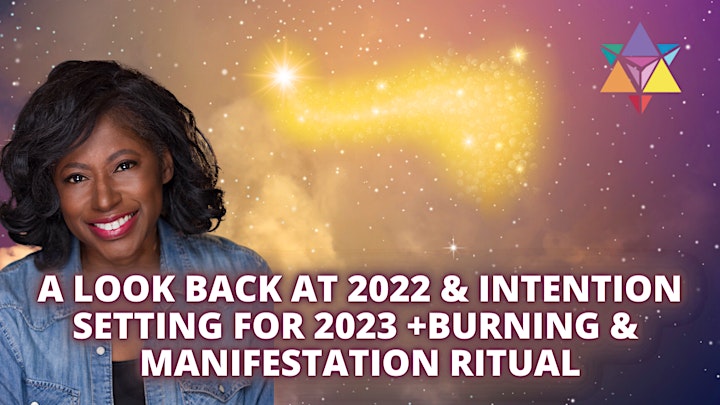 Join Rev Doreene as we take a look back at our lives and the energy of 2022 and what we have accomplished and have moved through to this point. Together we will release those things that don't serve us, then set new intentions for 2023 with a new perspective and renewed energy. Then we will align ourselves to the Divine timing of the Universe!
MORE ABOUT REVEREND DOREENE
As a multidimensional healer, Doreene has been using her spiritual gifts since her youth. As a child of Jamaican immigrants, Doreene was raised in a household where she was allowed to explore her gifts as a Clairvoyant and a clairaudient. Her studies in tarot and numerology came soon after. As a child Doreene was considered the original caller ID because she was able to tell her Mom who was calling before she answered the phone. She was told by one of her Spiritual Teachers that she was a Healer and thus began her journey into the many healing modalities.
Doreene is a certified Spiritual Healer, a Reiki Master, Certified Angel Team Healer, a Pranic Healer, certified Soul Processor and an Access Bars Facilitator. To her this just means she is channel for Divine Light and Love. An amazing multifaceted healer, she helps clients transform and heal on a deep inner level. Doreene has a sarcastic sense of humor, and warm character that will astound your senses. As a Clairvoyant, Medium and Tarot Reader, she talks directly to your soul and replenishes with pure love. As a Healer she can perform miracles if your mind is open and willing to accept being free from the things that block you from the true essence of your being. Through your guides, teachers and ancestors, she brings forth not only the answers to your questions, but messages you need to hear. Her goal is to teach you how to manifest the things in your life you not only have dreamed of having, but also the things you truly deserve.