"Bodhisattva" Live Performance
"BODHISATTVA" LIVE PERFORMANCE
MULTIPLE DATES! | 8 – 10 PM | $15
LA based guitarist/composer Scotty Bramer's musical project titled "Bodhisattva" combines eccentric jazz improvisations with an array of other influences, such as psychedelia, electronic, folk, rock, and classical – all heart centered and spiritually themed. The music combines strong melodies with rich harmonies and textures over danceable grooves. The all-original "Bodhisattva" EP was arranged and performed by Scotty, except for "To Illuminate All Shadows," which was recorded at a live performance with his trio. This music is truly unique – in fact, much of it was channelled through meditation and recorded instantaneously. Scotty will be sharing the stage with his wonderful band for this live performance at Liberate Sherman Oaks.
*Coffee, Tea & Refreshments will be available for purchase at the event*
Check out some performances below!
This class/event takes place in our covered outdoor garden that's equipped with space heaters and blankets, please dress accordingly. Events will take place rain or shine.
PLEASE NOTE: LAST MINUTE CHANGES (SUBS & CANCELLATIONS) ARE SUBJECT TO HAPPEN. PLEASE CALL US IF YOU HAVE ANY QUESTIONS
ABOUT SCOTTY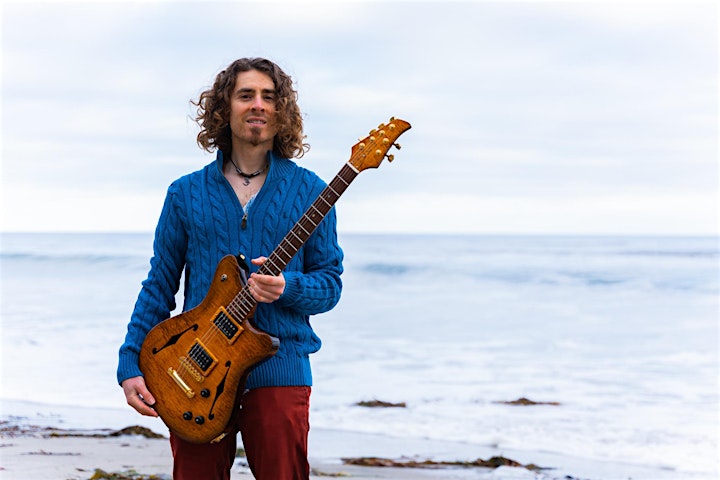 Scotty Bramer is a jazz guitarist, composer/arranger, and educator from Los Angeles, California. Since graduating from USC's Thornton School of Music in 2011, he has performed and toured with numerous musicians and artists in SoCal and around the country. He also leads and composes original music for his own trio, which has been performing for 10+ years.
His original music has a deep soulfulness, expressing an array of emotions and can be both fiery and exciting as well as introspective and heartfelt. As an improvisor, he loves to explore the unknown with an adventurous spirit and is often described as "melodic and tasteful." Scotty strives to convey honesty and vulnerability in his music, openly sharing his heart and his life with the audience.
CONNECT WITH SCOTTY
IG: https://www.instagram.com/scottybramer/
Spotify: https://open.spotify.com/album/0eGizu6iwKpU4kz8B0I1Em?si=8jfhDlRBTNyh3FYiDCnKwg