Embr: A Sound Healing Journey Experience
EMBR: A SOUND HEALING JOURNEY EXPERIENCE
MULTUPLE DATES! | $55
THIS EVENT TAKES PLACES OUTDOORS, PLEASE MAKE SURE TO DRESS ACCORDINGLY TO THE WEATHER – NO LATE ENTRANCE ADMITTED
*This Sound Bath is not part of our Membership promotions that allow participants to attend a Sound Bath for an up charge*
EMBR healing journeys are a one-of-a-kind sound experience with live instruments and curated music via headphones, conceived and performed live, using music and sound to explore sonic landscapes that lead to deeper relaxation and meditative states, enhancing flow, healing, and creativity. Zendo Stereo wireless headphones will be provided for the event.
We will begin with a brief intro on the benefits of sound healing and mindfulness. Then we will take you on a collective sonic journey that will include:
Gong bath activation and breathwork
3D sound bath featuring live instruments with Adrienne Bawa
Zendo Stereo Music Meditation journey, utilizing instrumental music from a wide range of influences (classical, tribal, ambient, nature sounds, and electronic + acoustic flavors)
You are free to lay down, sit up or move at any point during the journey. Listen to your body and connect to your greater joy and comfort.
We are excited to take you on musical deep dive, a journey that is both musical meditation and restorative experience, bending time and inner space to explore your hidden potential.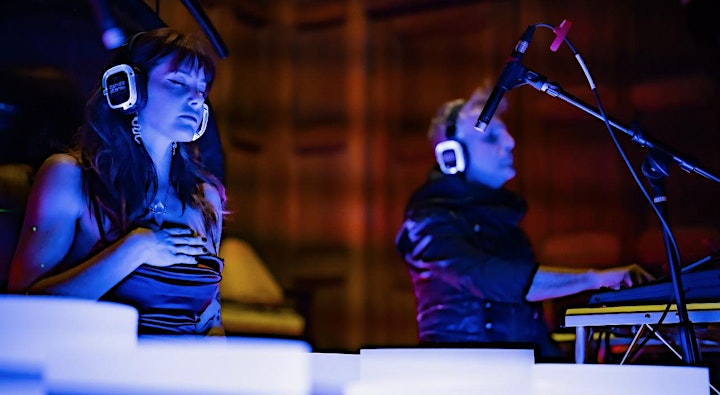 WATCH ADRIENNE ON THE PODCAST!
Learn more about Adrienne Bawa and her healing work with sound in this episode of Liberate the podcast.
ABOUT LIBERATE
More than a yoga studio, Liberate Yourself is a community created for spiritual and magically curious peeps like you! Everything we offer in our space – from infrared saunas to soundbaths, from classes to psychic readings, energy healing and crystals – is dedicated to helping you heal, transform and feel empowered to live your greatest life.
VIEW ALL OF LIBERATE'S EVENTS
We have an incredible number of amazing events on our calendar every month beyond our Wellness Program. Full Moon Circles, Sound Baths, Acupunture Meditation, Cacao Ceremonies, Past Life Regression Journeys and lots, lots more. Check out our full calendar here:
https://liberateyourself.com/calendar/
TRY OUR INFRARED SAUNAS
Coming to class? Try our gorgeous, top-of-the-line Infrared Saunas before or afterward for just $30/hour (includes shower time) or $45 for couples. Hot tip: Infrared saunas are included with memberships.
Learn more about our infrared saunas here: https://liberateyourself.com/wellness/infrared-saunas/