Sound Bath for You & Your Dog with Kirsten Korot (Outdoor Garden)
SUNDAY, JANUARY 22ND | 5 – 6:30 PM | $44 (1 DOG PER PERSON)| NO WALK-INS WILL BE ALLOWED, PLEASE PRE-REGISTER | LIMITED SPOTS
*PLEASE READ GUIDELINES TO BRING YOUR DOG BELOW – MUST BE ON LEASH, UP TO DATE WITH VACCINATIONS AND BE FRIENDLY WITH PEOPLE AND OTHER DOGS *
NO LATE ARRIVALS WILL BE ALLOWED – DOORS WILL CLOSE AT 5:45PM SHARP
BENEFITS OF SOUND HEALING WITH YOUR DOG
Our pets are our life companions that uplift and support us with unconditional love everyday and we are there to support them as well.
It is important to remember that when we as humans get stressed our animals pick up on that stress too. Sound Healing is a wonderful way to create a mutually beneficial and healing experience for both you and your pet. Our pets are naturally drawn toward peaceful energy. When you sit or lay down with your dog while you are in a restful, relaxed space, they soon feel at ease and become more still as a result. They may even position themselves by your side in order to enjoy that calm connection with you. A sound bath is a great way to share time together in a meditative tranquil energy of calm and peace with your dog.
In addition to feeling more relaxed and less anxious, pets receive an array of other benefits from a regular meditation experience, just as humans do. Considering the significant influence you have on your pet's health and well-being, and they have on yours, a mutual sound bath meditation practice.
As humans we often put our own self-care practice down on the list of our priorities in the day to day fast paced world so this allows you time to give that to yourself and create special bonding time with your pet so it's a win-win.
WHAT WE WILL BE DOING:
We will begin with some Dog & Human interaction time to mix and mingle and allow everyone human and dogs to meet, sniff around a little and get to know each other which helps to calm the energy of the space and help to settle the dogs down faster.
Once we everyone is settled in safely and comfortably, Kirsten will share about her experience working with animals and sound healing and the benefits of doing this together with your dog.  She will then share a guided exercise and meditation to teach you how to tune into a special chakra that dogs have that humans don't have called the Brachial Chakra that can help you strengthen and deepen your bond and connection to your dog.
We will then relax down for a soothing sound bath together and finish with some group sharing and answer any questions and let everyone including the dogs say their goodbyes to each other.
What can I bring into the event?
Bring yourself, your dog, and an open heart. We provide a yoga mat and blanket for each human – feel free to bring something comfy for your dog to relax on their favorite blanket or if they have a small favorite bed to make them comfy and create a safe space for them to relax down next to you. Some people even like to bring their crystals to energize in the sound bath so feel free to do that as well.
We will have a few water bowls around the outdoor area for the dogs and will also have some cool water and cups for the humans but feel free to bring your own water bottles as well.
httpv://www.youtube.com/watch?v=shorts/qNOBaxtgbv4
*GUIDELINES FOR BRINGING YOUR DOG
Dogs who attend must be on leash, up-to-date on vaccinations and be ok in group settings and friendly with other people and other dogs.  
WHY ONLY 1 DOG PER PERSON AND WHAT IF I WANT TO BRING AN ADDITIONAL DOG?
In doing this work with dogs and humans for many years Kirsten has found that the best way to maintain control of the dogs and allow owners to really relax down themselves it can be too hard to control multiple dogs on leashes and give yourself the needed self-care relaxation time too. Therefore we limit it to 1 person per dog.
If you want to bring another dog you will need to purchase a separate ticket and it includes an additional person – You will need to bring someone with you to manage the dog on leash (spouse, friend, family member) It is a nice way to share the experience with someone that might not have their own dog but loves being around dogs and gets along with yours. They get the benefit of being around dog energy and getting some needed self-care relaxation time and you get to share in the experience together.
Should your dog get out of control or express aggressiveness towards humans or other dogs, you may be asked to leave the session to ensure the safety and calming energy of the group. You know your dog best so we leave leave it up to your best discretion. That being said if your dog deals with alot of stress, anxiety, pain, ptsd or is an older ailing dog that gets along with others it can be very beneficial and healing for them.
ABOUT KIRSTEN KOROT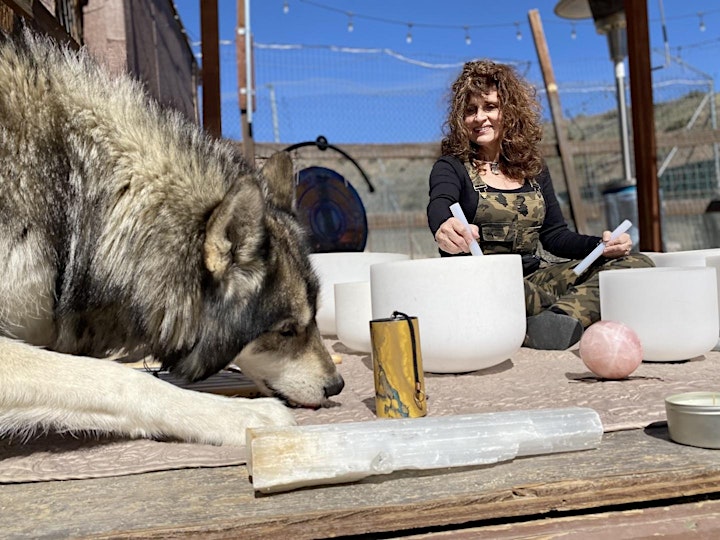 Kirsten Korot as been practicing for over 20 years in the Los Angeles area as a Certified Sound Healing Practitioner and Intuitive Coach. In 2012 Kirsten founded Nature Nurture Experiences™ to connect people in nature with and animals alongside sound healing and mindfulness practices. Amongst the unique experiences she offers is her popular Healing Day & Sound Bath with Wolves and her Women and Wolves programs that also help to raise funds for a local wolf sanctuary. She continues to create unique experiences and events that bring people together with sound healing around dogs, wolves, and other farm and exotic animals working with various animal events, rescues and sanctuaries.
Kirsten's sound baths with dogs have been featured in the Netflix Series "Pet Stars", on KTLA News Live and on "Wags to Riches" a series featuring animal loving entrepreneurs.
Kirsten offers private in-home one-on-one sound healing sessions for people and their pets as well as Group Dog Sound Baths and Corporate Sound Baths with Your Dog at dog friendly work environments for on the job stress relief.
In addition to online and in person classes , Kirsten provides private, group and corporate wellness sessions for companies like CNN, WarnerMedia, Cartoon Network, Harsch Investment Properties and Lululemon.
WEBSITE https://www.kirstenkorotinternational.com
INSTAGRAM https://www.instagram.com/kirstenkorotinternational