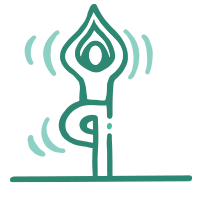 Restorative | Balancing | Activating
Connect to the body, mind and soul with a relaxing, meditative, full-body workout. Working with the body is a direct connection to heal the mind and the emotions as well as physical issues. Move and mediate. Restore your mindset with different types of yoga and dance classes! Explore the best forms of movement and a variety of different classes for your body in our nourishing, spiritual space. We have an incredible sound system and beautiful space that will help you get in touch with your spiritual self. Move your body surrounded by beautiful gardens and hand-painted murals and come home to yourself. Liberate is the perfect setting – both restorative and inspiring – for classes involving yoga and movement. Reconnect to your body, yourself, and bring balance, energy and movement back into your life.
Great for: Moving the body regularly which in turn helps with weight management, health and relieving stress and anxiety in daily life. Getting out of your headspace and connecting with yourself.
Each class will be different. Expect to move, transform and connect to your body in our spiritual outdoor space. No more park classes getting your yoga mat dirty, or on the beach getting covered in sand. Our space is in a beautiful garden surrounded by trees and spiritual murals. We even have yoga mats and cushions if you forget your own. We offer the best yoga and movement classes in LA with incredibly gifted instructors and special guest teachers who are known all over the world! Classes are currently available in the morning and evenings, but we also offer classes online with 48 hour replays so you can join us at your convenience from anywhere in the world from the comfort of your own home.
Why would you attend a Yoga, Dance or Movement class?
Attend one of our classes if you feel like you need to move your body! Whether you've been out of touch with your body and are ready to reconnect, or whether you would like to try a new form of movement or exercise, we've got you. We have classes for all ages and all fitness levels. Get your body moving in a spiritual setting with the best yoga and dance teachers in LA. No one has ever left a workout and said ' I regret that" but we always regret not going. Improve your health, boost your energy levels and your spirit!
When to attend a Yoga, Dance or Movement class?
Regularly, to keep your health and vitality up – but don't make the mistake of feeling like you can't come because you've struggled to attend regularly. Any movement and exercise is better than none and the benefits are immediate! You can also attend whenever you want to try a new and fun, feel-good way of moving your body. Yoga, dance and movement can help improve cardiovascular fitness, flexibility, balance and overall create a better quality of life.
Current types of yoga classe we offer
Hatha Flow

Kundalini yoga

Ecstatic dance

Restorative Yoga

Resistance Yoga

Tai Chi

Qi Chong

Power yoga

Vinyasa

Flow
Upcoming Art & Creativity Events