History & Mystery of the Tarot with Matt Bruce
HISTORY & MYSTERY OF THE TAROT with MATT BRUCE
FRIDAY, MAY 26TH | 7 – 8:30PM | $25
The History and Mystery of the Tarot- is it from Egypt? Is it Pagan? Should you be afraid of it? Join Liberate's resident Rose & Tarot reader Matt Bruce as we dive deep into a story that will take you around the world and reveal some surprising facts about our favorite deck of cards. Explore how cultures, mythology, games, and religion come together into what has become the most popular form of divination in the western world. Free readings for select attendees!
This class/event takes place in our outdoor garden that's equipped with space heaters and blankets, please dress accordingly.
PLEASE NOTE: LAST MINUTE CHANGES (SUBS & CANCELLATIONS) ARE SUBJECT TO HAPPEN. PLEASE CALL US IF YOU HAVE ANY QUESTIONS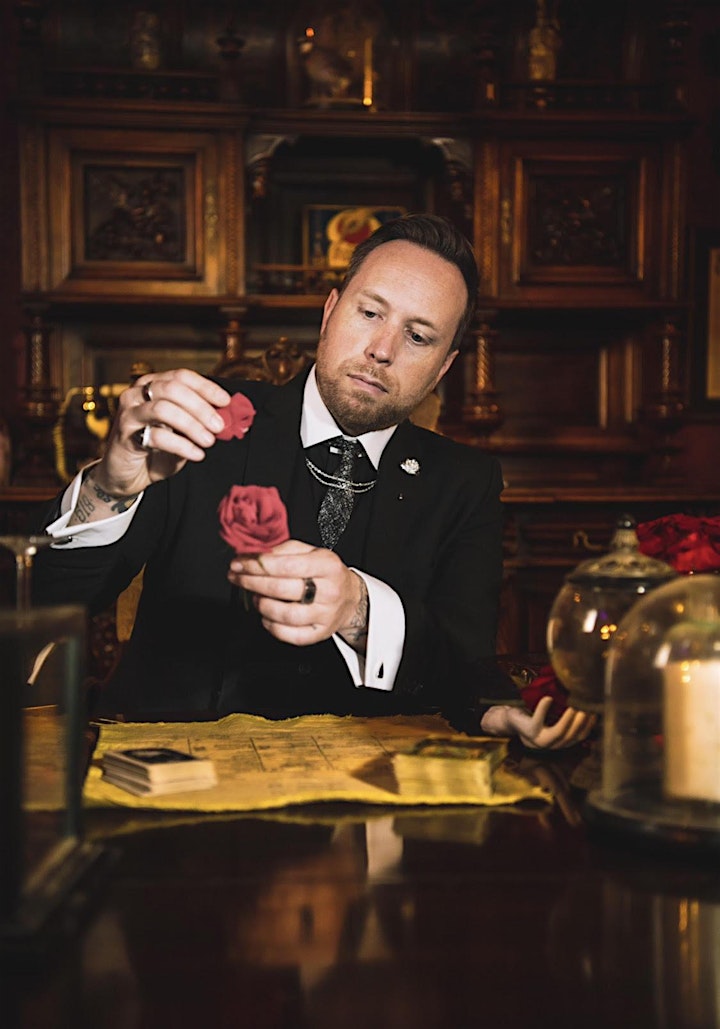 ABOUT MATT
Matt's work with shamans, healers, historians, and master readers has helped him develop innovative ways to interact with the magic and meaning of tarot, numerology, and roses.
Every session combines various disciplines that allow us to focus on your special gifts. Each reading is different. We can tap into your natural intuitive power, use numerology to find your Spiritual Days, or reveal a path to your higher self using the Vitruvian Square chart in Matt's signature "Rose Reading".
Matt's use of ritual resonates deeply with the people he works with, and he provides an empowering and transformative experience you won't find anywhere else.
Matt is also a popular speaker and facilitator. He regularly speaks at conferences, libraries, and events for different groups and organizations. He has delivered his presentations on the History and Mystery of the Tarot, The Archetypes as Guides, Divine Connection with the Tarot, the Roses and Dreams Workshop, and his special Mystical Stone Seance which is one of his most popular experiential offerings.
CONNECT WITH MATT
https://www.mattbrucetarot.com/
IG – @tarotmatic
TESTIMONIALS
"Seriously, folks…this guy is top drawer…one of the best in L.A. and beyond. If I can make a suggestion; BOOK HIM NOW while you have the chance. His popularity is growing every day."
— Terry Tyson, Corporate Keynote Speaker, San Diego
"Exceptionally talented, wildly remarkable! One of a kind reader- Truly a memorable experience!"
— Laura C, Los Angeles
"Matt, you are amazing! So much fun and so informative. Thank you so much!"
— Shara T, Los Angeles
ABOUT LIBERATE
More than a yoga studio, Liberate Yourself is a community created for spiritual and magically curious peeps like you! Everything we offer in our space – from infrared saunas to soundbaths, from classes to psychic readings, energy healing and crystals – is dedicated to helping you heal, transform and feel empowered to live your greatest life.
VIEW ALL OF LIBERATE'S EVENTS
We have an incredible number of amazing events on our calendar every month beyond our Wellness Program. Full Moon Circles, Sound Baths, Acupunture Meditation, Cacao Ceremonies, Past Life Regression Journeys and lots, lots more. Check out our full calendar here:
https://liberateyourself.com/calendar/
TRY OUR INFRARED SAUNAS