Returning Home Sound Bath
RETURNING HOME SOUND BATH with KATE
$40 or two tickets for $60!
Have a membership? You can attend this Sound Bath for just a $20 Up charge! Call us at 818-387-6201
Returning home means attuning to your authentic energetic frequency.
Prepare yourself to be guided back home through the deeply nourishing healing modality of sound. In this sound bath, you will be guided by Kate and bathed in frequencies that will regulate your nervous system, calm your physical body, and clear and restore natural harmony to your energy field.
Crystal Tone Alchemy Bowls, tuning forks, Shruti box, crystal triangles, Koshi Chimes and Kate's voice will create the soundscape of harmony and relaxation on this sound journey. All you have to do is simply lay down and receive the healing benefits of this healing practice.
This class/event takes place in our outdoor garden that's equipped with space heaters and blankets, please dress accordingly.
PLEASE NOTE: LAST MINUTE CHANGES (SUBS & CANCELLATIONS) ARE SUBJECT TO HAPPEN. PLEASE CALL US IF YOU HAVE ANY QUESTIONS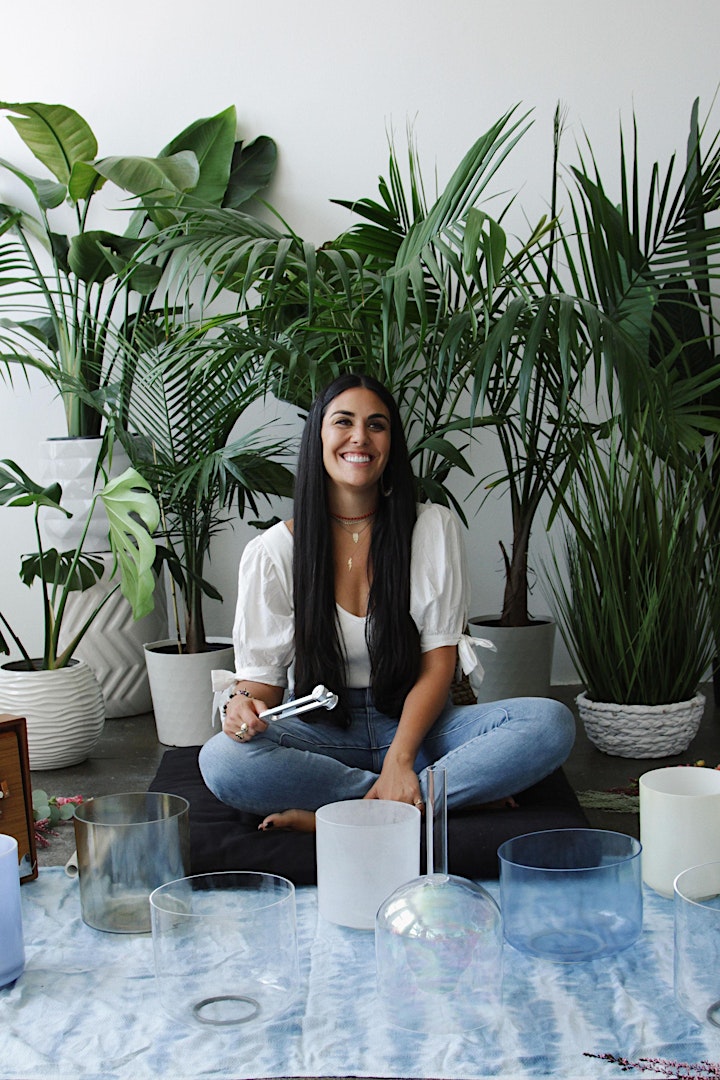 Kate Schofield is an energy-based sound healer. She has spent the last 10 years healing and training in many different modalities in the Healing Arts. Kate's passion is helping highly sensitive people and creatives move through this world with ease, access their highest gifts, and become the clearest channel for the creations that wish to be birthed through them.
TESTIMONIALS
"I love how Kate is very intentional on and off the mat, she is so thoughtful and mindful with this work. I am so thankful to have experienced her beautiful sound meditations. I felt like I was wrapped in a soft cocoon of vibrational healing with her soothing voice and crystals bowls. I would leave feel refreshed and relaxed as if I was sleeping on a bed of clouds."
– Jennii Vo Le
I have always been very reluctant to get into, what I use to call "hippy shit", But that was just my way of avoiding trying something different or something outside of what I "normally do" But when I had my first sound bath my "hippy shit" mentality quickly became what I needed in my life. Kate is sure of her practices & puts everyone at ease, Her teachings are transformative & my second sound bath with her was a huge breakthrough for me, I for the first time in my whole life had a completely empty mind, Not a single thought, Just the sound of the bowls & Kate's voice. I will forever be indebted to Kate for that.."
— Hayley Warner
My experience with Kate's sound meditation has been an extremely positive one. I have taken her in-person class as well as her zoom meditations. It's a very calming, comforting and relaxing experience. I was recently in the hospital and dealing with a great amount of pain. I used some of her techniques to get me through the pain and I will always be grateful for her introducing me to this wonderful practice!"
– Nicole Baldwin
PLEASE NOTE: LAST MINUTE CHANGES (SUBS & CANCELLATIONS) ARE SUBJECT TO HAPPEN. PLEASE CALL US IF YOU HAVE ANY QUESTIONS
ABOUT LIBERATE
More than a yoga studio, Liberate Yourself is a community created for spiritual and magically curious peeps like you! Everything we offer in our space – from infrared saunas to soundbaths, from classes to psychic readings, energy healing and crystals – is dedicated to helping you heal, transform and feel empowered to live your greatest life.
VIEW ALL OF LIBERATE'S EVENTS
We have an incredible number of amazing events on our calendar every month beyond our Wellness Program. Full Moon Circles, Sound Baths, Acupunture Meditation, Cacao Ceremonies, Past Life Regression Journeys and lots, lots more. Check out our full calendar here:
https://liberateyourself.com/calendar/
TRY OUR INFRARED SAUNAS
Coming to class? Try our gorgeous, top-of-the-line Infrared Saunas before or afterward for just $30/hour (includes shower time) or $45 for couples. Hot tip: Infrared saunas are included with memberships.
Learn more about our infrared saunas here: https://liberateyourself.com/wellness/infrared-saunas/