Journey To The Heart: Sound Bath Meditation with Natalia
JOURNEY TO THE HEART: SOUND BATH MEDITATION with NATALIA
7- 8:30PM | $33
An invitation to drop out of your thinking mind and into the present moment by tuning into the body, specially your heart center. Through the meditative sounds of crystal bowls and various other instruments, Natalia will guide you on a journey to deepen your connection to your divine essence and the collective consciousness by anchoring to your breath and healing harmonics. Together we will cultivate an open heart, loving-kindness, forgiveness and compassion. As we develop these qualities of the heart, we become empowered to move from a place of genuine love, begin to heal and accept ourselves and in turn help the collective heal too.
CONNECT WITH NATALIA
IG: @nataliadarling | @theloveawakening
This class/event takes place in our covered outdoor garden that's equipped with space heaters and blankets, please dress accordingly. Events will take place rain or shine.
PLEASE NOTE: LAST MINUTE CHANGES (SUBS & CANCELLATIONS) ARE SUBJECT TO HAPPEN. PLEASE CALL US IF YOU HAVE ANY QUESTIONS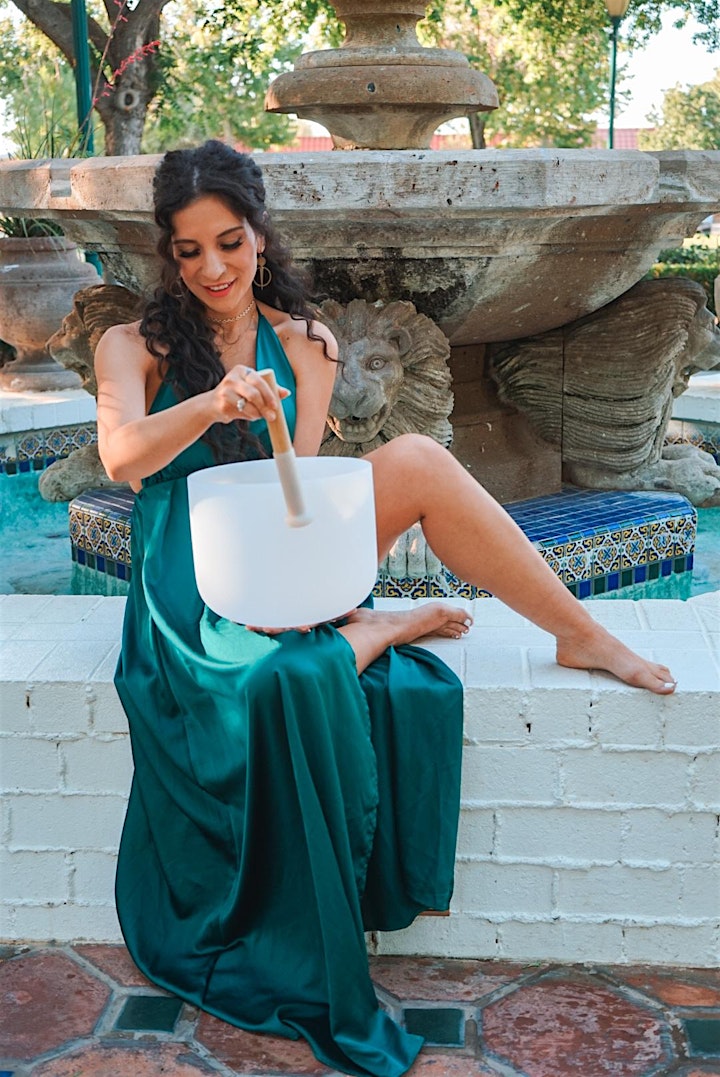 ABOUT NATALIA
Natalia is a heart centered, intuitive sound practitioner & energy healer passionate about community building & collective healing. Born and raised in Colombia, her roots expand far & wide as she continues to deepen her understanding of energetic alchemy & multicultural integration.
Devoted to personal growth & development, she aims to cultivate higher frequencies with all who cross her path & leave them with a greater sense of peace, purpose & presence, offering sound therapy, 1:1 spiritual guidance & authentic connecting spaces.
Honored to call Los Angeles her home for the last decade, learning from wonderful mentors along the way, she is humbled to offer her gifts & build an even stronger community of like hearted souls who are ready to usher in a new earth by opening up, being vulnerable & healing together.
ABOUT LIBERATE
More than a yoga studio, Liberate Yourself is a community created for spiritual and magically curious peeps like you! Everything we offer in our space – from infrared saunas to soundbaths, from classes to psychic readings, energy healing and crystals – is dedicated to helping you heal, transform and feel empowered to live your greatest life.
VIEW ALL OF LIBERATE'S EVENTS
We have an incredible number of amazing events on our calendar every month beyond our Wellness Program. Full Moon Circles, Sound Baths, Acupunture Meditation, Cacao Ceremonies, Past Life Regression Journeys and lots, lots more. Check out our full calendar here:
https://liberateyourself.com/calendar/
TRY OUR INFRARED SAUNAS
Coming to class? Try our gorgeous, top-of-the-line Infrared Saunas before or afterward for just $30/hour (includes shower time) or $45 for couples. Hot tip: Infrared saunas are included with memberships.
Learn more about our infrared saunas here: https://liberateyourself.com/wellness/infrared-saunas/
00

days

00

hours

00

minutes

00

seconds
More Info
Location
Liberate Yourself - Sherman Oaks

13323 Ventura Blvd, Sherman Oaks, CA 91423
Get Tickets