Date
Nov 17 2023
Expired!
Meditation + Reiki Drum Healing for Heart Opening and Grounding
MULTIPLE DATES | 7 – 8:30 PM | $45 OR TWO TICKETS FOR $80
LIMITED TO 12 PARTICIPANTS ONLY!
Tune into your heart's wisdom and healing in this 90min meditation and Shamanic sound journey. Guided meditation will bring us into an optimal state to receive Reiki drumming. This journey opens our hearts, allowing us to release old emotions (even from past lives) and bring more compassion, unconditional love and joy into our daily lives while grounding us into the Earth's grid and the present moment.
Limited capacity for 12 participants only. Each individual will receive Reiki drumming.
When Reiki is combined with drumming, the Divine wisdom inherent in Reiki energy merges with the sound waves and carries the Reiki energy more deeply into the recipient while creating a safe and sacred environment for healing. Reiki drumming affects the physical, emotional, mental, and spiritual bodies simultaneously, helping to bring them into harmony while raising the vibratory rate to levels that may allow the body to accelerate its innate healing abilities.
After Reiki drumming many people experience heart expansion (increased feelings of love, compassion) and an increased sensitivity to vibration and many who have not had the awareness of feeling Reiki's energy are able to begin feeling it.
Shamanic sound healing is part of Abigail's 1:1 sessions – this is a great way to get a taste! Book a private session with Abigail HERE.
This class/event takes place in our covered outdoor garden that's equipped with space heaters and blankets, please dress accordingly. Events will take place rain or shine.
PLEASE NOTE: LAST MINUTE CHANGES (SUBS & CANCELLATIONS) ARE SUBJECT TO HAPPEN. PLEASE CALL US IF YOU HAVE ANY QUESTIONS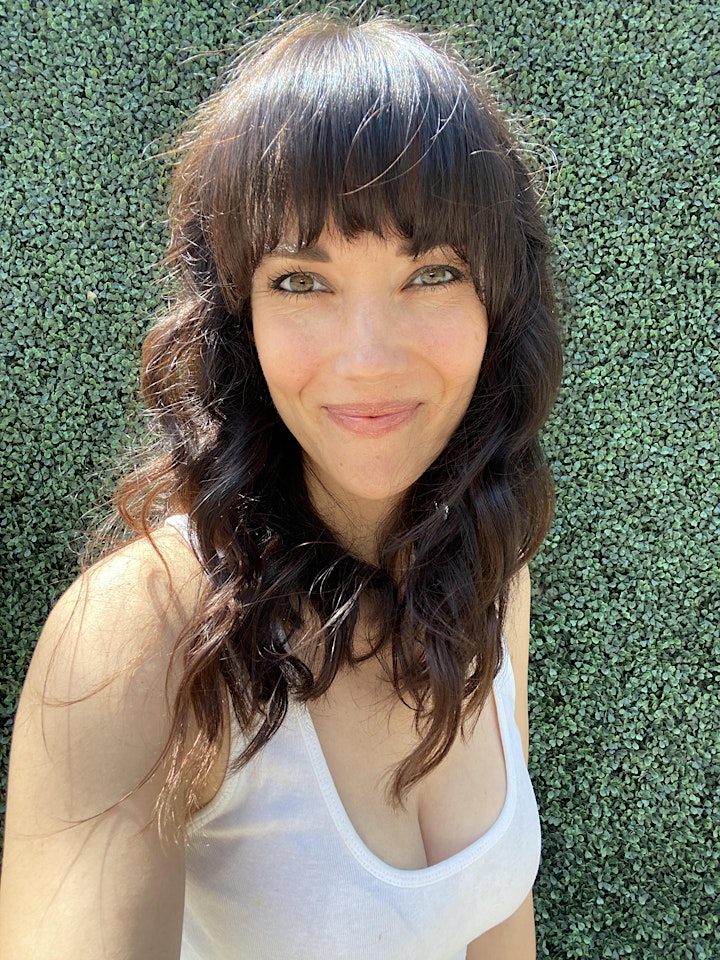 ABOUT ABIGAIL
Abigail is an Artist and Crystal Reiki Practitioner, trained and attuned in Usui Reiki I and II, energy medicine and core wound healing. As an empathic intuitive channel, she specializes in deep emotional healing, trauma recovery, and expanding your relationship with Spirit/Source/God.
With a deep reverence for Mother Earth and growing up in Buddhist, Christian and Pagan traditions, Abigail recognizes the harmony and oneness of all things. She brings the wisdom and empathy of a diverse human experience and background into her work, allowing it to inspire, inform and enhance her readings and Reiki sessions. Additionally, as a trauma survivor herself, Abigail is especially sensitive to the needs of clients with trauma history.
An artist and healer have the responsibility to assist society in their awakening, to shine light into the darkness. As such, it is her purpose in this lifetime to help awaken, heal, evolve and uplift humanity. She wishes you love, healing and an ever expanding consciousness.
CONNECT WITH ABIGAIL
www.sacredhealingartla.com, IG: @sacredhealing_art
ABOUT LIBERATE
More than a yoga studio, Liberate Yourself is a community created for spiritual and magically curious peeps like you! Everything we offer in our space – from infrared saunas to soundbaths, from classes to psychic readings, energy healing and crystals – is dedicated to helping you heal, transform and feel empowered to live your greatest life.
VIEW ALL OF LIBERATE'S EVENTS
We have an incredible number of amazing events on our calendar every month beyond our Wellness Program. Full Moon Circles, Sound Baths, Acupunture Meditation, Cacao Ceremonies, Past Life Regression Journeys and lots, lots more. Check out our full calendar here:
https://liberateyourself.com/calendar/
TRY OUR INFRARED SAUNAS