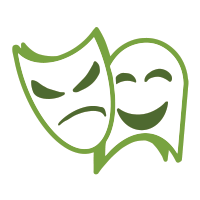 INSPIRING
LIBERATING
AWAKENING
Sometimes we just need a night off to experience great entertainment! Comedy, Poetry and Theater are some of the most popular events in LA. Why not come check them out in our unique, covid-safe spiritual and creative space? We offer the best and most interesting mix of comedy, poetry, theater and creative entertainment to be found anywhere in LA, with the best-of-the-best local and touring artists, entertainers and comedians from all over the world. Maybe you have a talent of your own you would like to share at our open mic nights? Let go of the mundane hustle and grind – come unwind in our magical, soul-stirring space and let our featured artists, poets, actors and comedians take your heart and mind to new heights! Don't be surprised if you recognize some of the faces on stage – we are so blessed to have some of the world's best actors and comedians who've appeared in multiple recurring roles in huge sitcoms. Just one of the many amazing things about LA, city of angels – and city of actors! Our open mic nights boast a multitude of different talents, always keeping things interesting and exceptional
Great for: Letting go and disconnecting from the burdens and pressures of everyday life and the "real" world! Come laugh, feel, dream and cry with us on our comedy, poetry and theatre nights! Everything from stand-up to open mics to slam poetry to book-readings to scene plays and more. Check our calendar for upcoming events!
Come enjoy our covid safe space, for comedy poetry and theater. Enjoy the arts in a spiritual space and maybe even show us your talents at our open mic night. Laughter is the best medicine, so come enjoy a night in our beautiful outdoor space with donation-based drinks in a social setting with loved ones, or even by yourself (artist date, anyone?) Let go and be entertained! As a prime performance venue in the city of angels and city of actors, we have some of the best comedians and actors that have appeared in multiple recurring roles in huge sitcoms regularly gracing the Liberate stage. A multitude of different talents at our open mic nights will keep you guessing and keep you transcending! Our incredible space has beautiful gardens, a stage and seating surrounded by mystical murals and playful, magical, ambient lights. We also have the occasional event in our indoor space where we also have a gorgeous stage setup – and you will be surrounded by all crystals!!!
Sometimes after a hard week we need a little entertainment – to laugh and enjoy a social setting. We offer amazing entertainment in a safe space with a community of like-minded people. If you just need a fun night out with friends, family, or have a date night planned – we've got your magic and vibe. Come enjoy our beautiful spiritual garden ripe with trees, murals, and mystical lighting to set the energy for a special night with your faves and some of the world's best entertainers.
Come anytime! If you need a good laugh, some fun or are feeling the need to let go and express yourself, our creative space (either inside or outside) will provide a blissed-out, enchanting and inspiring experience. We have stages both inside and outside, surrounded by the world's most beautiful crystals. There is magic everywhere. Come vibe with us!
Current Types of PerfomanceS Offered
What's your sign ? Comedy night

Full Moon Comedy

Open Mic Nights

Book Readings

Poetry Readings

Cold Readings of Plays

Plays

Theater

Improv

Slam Poetry

Spoken Word
Upcoming Comedy, Poetry & Theater Events