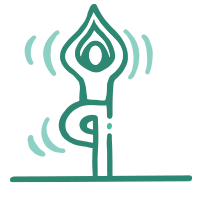 STRETCH – RESTORE – ACTIVATE – ALIGN
Yoga is an ancient Indian practice that is much more than working out (although there are extremely amazing health benefits to practicing yoga). 
Yoga is a spiritual practice that incorporates mind, body, AND soul. Therefore, yoga helps you build strength in your body, stretch, connect to your breath, clear your mind, align your energy, and reconnect to your self.
Not to mention, we also offer more fitness based classes like pilates, 80's aerobic dance, and more!
Great for: Moving the body regularly which in turn helps with weight management, health and relieving stress and anxiety in daily life. Getting out of your headspace and connecting with yourself.
Each class will be different. Expect to move, transform and connect to your body in our spiritual outdoor space.
All of our fitness and yoga classes are beginner friendly and facilitators will work to meet you at whatever level you are at. If you have a restriction please let your facilitator know and they will help you modify and watch out for injuries.
No more park classes getting your yoga mat dirty, or on the beach getting covered in sand. Our space is in a beautiful garden surrounded by trees and spiritual murals. We even have yoga mats and cushions if you forget your own.
Classes are currently available in the morning and evenings, but we also offer classes online with 48 hour replays so you can join us at your convenience from anywhere in the world from the comfort of your own home.
Why would you attend a Yoga, Dance or Movement class?
Attend one of our classes if you feel like you need to move your body! Whether you've been out of touch with your body and are ready to reconnect, or whether you would like to try a new form of movement or exercise, we've got you.
We have classes for all ages and all fitness levels. Get your body moving in a spiritual setting with the best yoga and dance teachers in LA.
No one has ever left a workout and said ' I regret that" but we always regret not going. Improve your health, boost your energy levels and your spirit!
When to attend a Yoga, Dance or Movement class?
Regularly, to keep your health and vitality up – but don't make the mistake of feeling like you can't come because you've struggled to attend regularly.
Any movement and exercise is better than none and the benefits are immediate! You can also attend whenever you want to try a new and fun, feel-good way of moving your body. Yoga, dance and movement can help improve cardiovascular fitness, flexibility, balance and overall create a better quality of life.
Current types of yoga classe we offer
Hatha Flow

Kundalini Yoga

Ecstatic dance

Yin Yoga

Pilates

80's Aerobics

Qi Chong

Vinyasa Yoga Flow

Somatic Movement
Upcoming Art & Creativity Events
SU

MO

TU

WE

TH

FR

SA
29

30

31

1

2

3

4
Events for November
1st
No Events
Events for November
2nd
No Events
Events for November
3rd
No Events
Events for November
4th
No Events
5

6

7

8

9

10

11
Events for November
5th
No Events
Events for November
6th
No Events
Events for November
7th
No Events
Events for November
8th
No Events
Events for November
9th
No Events
Events for November
10th
No Events
Events for November
11th
No Events
12

13

14

15

16

17

18
Events for November
12th
No Events
Events for November
13th
No Events
Events for November
14th
No Events
Events for November
15th
No Events
Events for November
16th
No Events
Events for November
17th
No Events
Events for November
18th
No Events
19

20

21

22

23

24

25
Events for November
19th
No Events
Events for November
20th
No Events
Events for November
21st
No Events
Events for November
22nd
No Events
Events for November
23rd
No Events
Events for November
24th
No Events
Events for November
25th
No Events
Events for November
26th
No Events
Events for November
27th
No Events
Events for November
28th
6:15 PM - 7:00 PM
Liberate Yourself - Sherman Oaks
Events for November
29th
10:15 AM - 11:00 AM
Liberate Yourself - Sherman Oaks
12:30 PM - 1:15 PM
Liberate Yourself - Sherman Oaks
Events for November
30th
12:30 PM - 1:15 PM
Liberate Yourself - Sherman Oaks
Events for December
1st
11:30 AM - 12:15 PM
Liberate Yourself - Sherman Oaks
Events for December
2nd
11:30 AM - 12:15 PM
Liberate Yourself - Sherman Oaks