Hatha Yoga for Breath and Gentle Movement with Jenn
Find your inner peace as we move through a series of standing and seated postures. Hatha is a gentle practice with an emphasis on connecting with the breath as we find steadiness in asana and attain increased balance and enhanced connection to our highest self. Whether you're a beginner or an experienced yogi, we are here to yoga in a safe sacred environment. Let's slow down, connect, and zen.
ALL LEVELS WELCOME!
As a part of Liberate's Wellness Program, this class is included with Membership.
PRICE:
This class/event takes place in our covered outdoor garden that's equipped with space heaters and blankets, please dress accordingly. Events will take place rain or shine.
PLEASE NOTE: LAST MINUTE CHANGES (SUBS & CANCELLATIONS) ARE SUBJECT TO HAPPEN. PLEASE CALL US IF YOU HAVE ANY QUESTIONS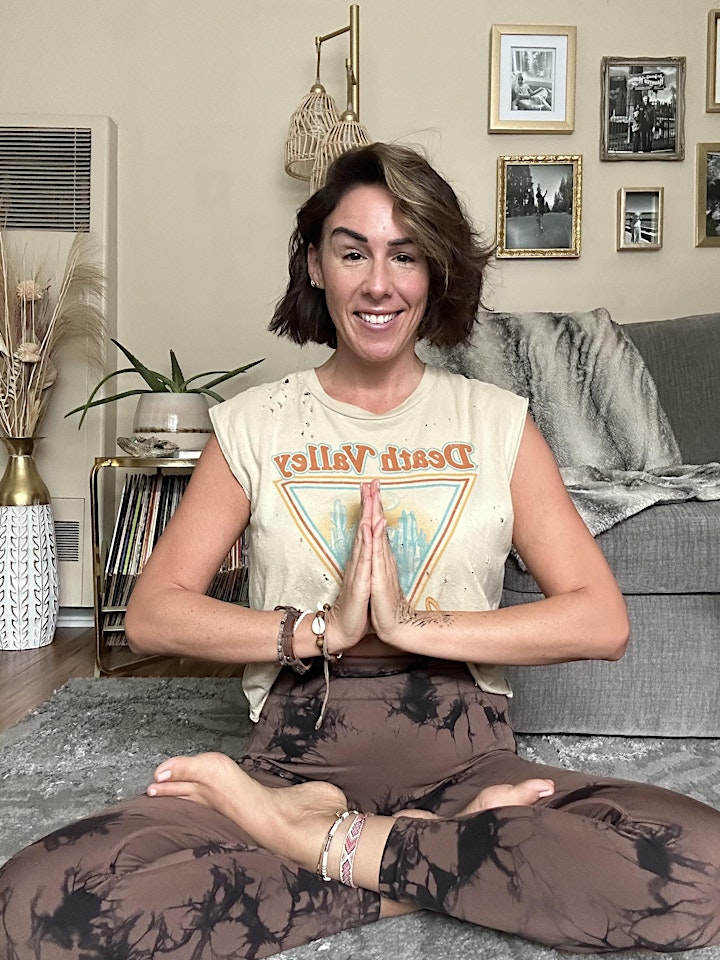 ABOUT JENN
Growing up in the Bay Area I always had a passion for movement. I started dancing when I was 5 years old and continued competitively through college. I have always loved dance but knew I wanted to work with children. I have been an educator for over 15 years. Along with inspiring young minds to have a love for learning, I have always felt expression and having a love for yourself is very important. As I continued taking dance classes I also became enthralled in how my spirit felt while practicing yoga. Like my students I felt I could express myself, I became more in love with who I am, and felt more in tune with my body. Fast forward many years later I decided to take the plunge and move to LA with my school, which was opening some new campuses. I have been in LA for over 5 years and found myself thinking I would love to deepen my practice and share my love for yoga with the possibility of teaching. I decided to do an intensive 200 hour RYT in Joshua Tree. I found myself in love with the history of yoga. I knew this was my new calling. Yoga, meditation, and breathwork has really opened up my spirit and has guided me through the ups and downs of life. I look forward to sharing my love of yoga, providing a safe space, calming, and uplifting yoga experience that will leave everyone feeling at one with their practice and themselves. Peace and Love
CONNECT WITH JENN
Instagram – @peaceanloveyoga
ABOUT LIBERATE
More than a yoga studio, Liberate Yourself is a community created for spiritual and magically curious peeps like you! Everything we offer in our space – from infrared saunas to soundbaths, from classes to psychic readings, energy healing and crystals – is dedicated to helping you heal, transform and feel empowered to live your greatest life.
VIEW ALL OF LIBERATE'S EVENTS
W e have an incredible number of amazing events on our calendar every month beyond our Wellness Program. Full Moon Circles, Sound Baths, Acupunture Meditation, Cacao Ceremonies, Past Life Regression Journeys and lots, lots more. Check out our full calendar here:
https://liberateyourself.com/calendar/
TRY OUR INFRARED SAUNAS