It's Mai Healing Thing Soundbath: Welcoming the Fall Equinox
with MAISHA
7 – 8:30PM | FALL SPECIAL TICKET PRICE: $33 PER PERSON!
"It's Mai Healing Thing" Sound Bath with Maisha Monroe. -Summer Vibes-
Mai personal touch will add the extra feeling you get when you experience bliss. A soundbath will recalibrate your system, Heal Deeply, Manifest + Energize!! A Sound Bath is an acoustic sound healing journey that relaxes the body, clears the subconscious, calms the mind, and activates your body's natural healing systems.
Come join me for an unforgettable moment with "Mai Healing Thing" soundbath on dates in August & September!
Come let go of all that no longer serves you and manifest the best life you could ever imagine!! This will be a very heart opening & healing experience.
Doors will open at 6:30pm, so you can set up your most comfortable space & possibly get some praying, meditating, and / or some reading done, whatever you like during your time. 📚 🦋🧘🏽‍♀️ 🙏🏽 ✨️
What to Bring: a blanket, pillow and create your most comfortable space, then lie down and let the energy vibrations wash away stress and all that no longer serves you. If you don't have your own, don't worry! Liberate has blankets, yoga mats & cushions to provide clients for this experience.
I use a wide variety of ancient sound healing instruments, including planetary tuned gongs, crystal singing bowls, Tibetan bowls , and more to create a sound healing experience that will vibrate and activate every cell in your body , leaving you feeling refreshed and rejuvenated.
Maisha's Soundbath will create a chamber of healing vibrations, that revitalize the mind , body, soul and spirit, leaving you feeling amazing. Sound healing is so effective because it influences our emotional bodies as well as our physical bodies. Different sound vibrations interact with our physical and energetic bodies in beneficial ways:
Activates Higher States of Consciousness
Unlocks Blocked Emotions
Relieves Anxiety and Stress
Induces Complete Relaxation
Promotes Deep Meditation
Heightens Clarity
Improves Ability to Concentrate
Relieves Insomnia
Decreases Depression
Normalizes Blood Pressure
Relieves Physical Pain
Release Emotional Trauma
***NO LATE ENTRY SO AS NOT TO DISTURB THE ENERGY AND FLOW OF THE CIRCLE****.
PLEASE ALLOW YOURSELF TIME FOR PARKING AND TO CHECK IN AT THE FRONT DESK.
PLEASE NOTE: LAST MINUTE CHANGES (SUBS & CANCELLATIONS) ARE SUBJECT TO HAPPEN. PLEASE CALL US IF YOU HAVE ANY QUESTIONS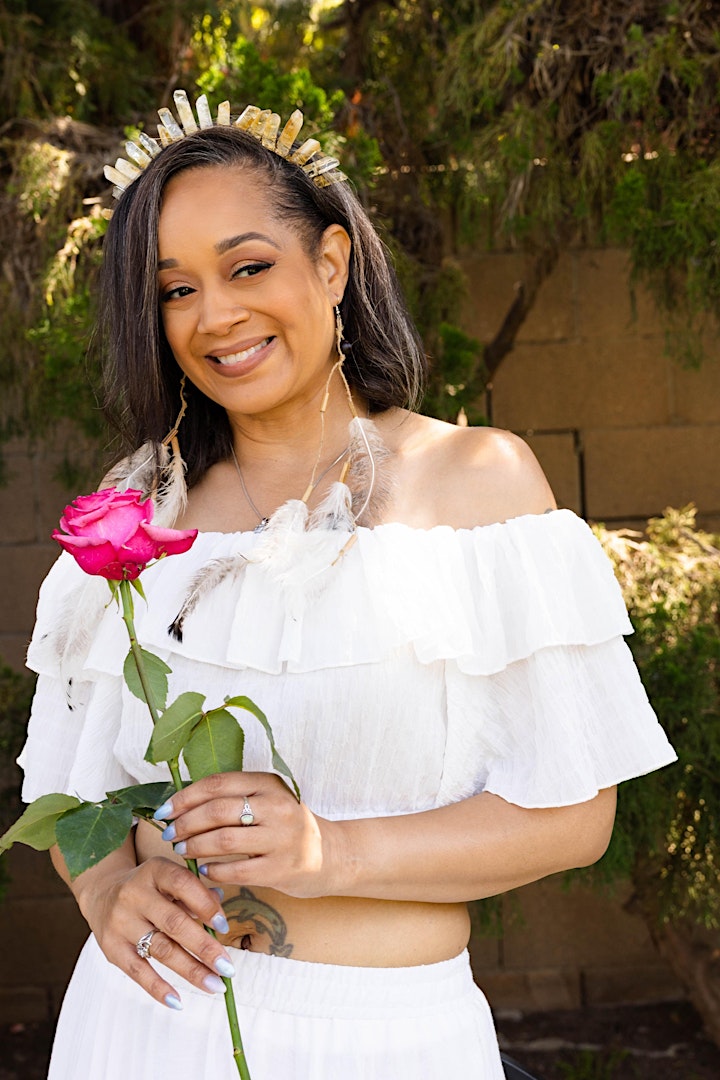 ABOUT MAISHA
I am certified Shakti Sound Healer Practitioner and currently obtaining my Chakra Harmonic Alignment Diploma. Maisha means "life" in Swahili (from Africa), however I was born and raised in Los Angeles, CA. I love what a deep powerful thing of what my name means…..LIFE, I hope I shed some upon you today & always. I am a former Sign Language Interpreter (A.S. degree graduate of ECC, but still know the language). I am an empath, passionate & genuinely care for what people don't speak about out loud. I will share my skills as a Certified Shakti Sound Healer Practitioner and Chakra Harmonic Alignment (in practice), to help clear what you no longer need in your life right now. Relax, unwind & rejuvenate..Much love & light!!
CONNECT WITH MAISHA
@mai_mon77 @maishas_sound.healing.journey
ABOUT LIBERATE
More than a yoga studio, Liberate Yourself is a community created for spiritual and magically curious peeps like you! Everything we offer in our space – from infrared saunas to soundbaths, from classes to psychic readings, energy healing and crystals – is dedicated to helping you heal, transform and feel empowered to live your greatest life.
VIEW ALL OF LIBERATE'S EVENTS
We have an incredible number of amazing events on our calendar every month beyond our Wellness Program. Full Moon Circles, Sound Baths, Acupunture Meditation, Cacao Ceremonies, Past Life Regression Journeys and lots, lots more. Check out our full calendar here: