Kundalini Clearing Yoga: Elevate Your Vibration
Discover "Kundalini Clearing" a 45-minute yoga journey led by Ivy Glass that harnesses the transformative power of Kundalini. In this class, you'll learn to clear blockages, open energy channels, and elevate your vibration to achieve a greater sense of clarity and harmony.
-Class Includes –
*Purifying Breathwork: We'll commence with powerful breath techniques that purify your energy field and ignite your inner fire.
*Repetitive Dynamic movements both seated & standing linked with Breathwork
*Chakra Alignment: Explore the profound chakra system to harmonize and balance these energy centers for enhanced vitality.*
Meditation & Mantras: Immerse yourself in meditation practices and the resonance of mantras, leading to a heightened state of consciousness and inner transformation.
*Energy Activation: Discover how to direct Kundalini energy to open and expand your energetic pathways, amplifying your inner light.
Why "Kundalini Clearing"?
This class provides a unique opportunity to clear away stagnation, elevate your vibration, and awaken your full potential. It's a journey toward clarity, balance, and self-discovery.We welcome all, regardless of your experience level. Just bring your yoga mat, a water bottle, and an open spirit, and be ready to embrace the transformative power of Kundalini.Join us for "Kundalini Clearing" to elevate your vibration and embark on a journey of inner awakening. See you there, ready to rise to new heights!
ALL LEVELS WELCOME!
As a part of Liberate's Wellness Program, this class is included with Membership.
PRICE:
This class/event takes place in our covered outdoor garden that's equipped with space heaters and blankets, please dress accordingly. Events will take place rain or shine.
PLEASE NOTE: LAST MINUTE CHANGES (SUBS & CANCELLATIONS) ARE SUBJECT TO HAPPEN. PLEASE CALL US IF YOU HAVE ANY QUESTIONS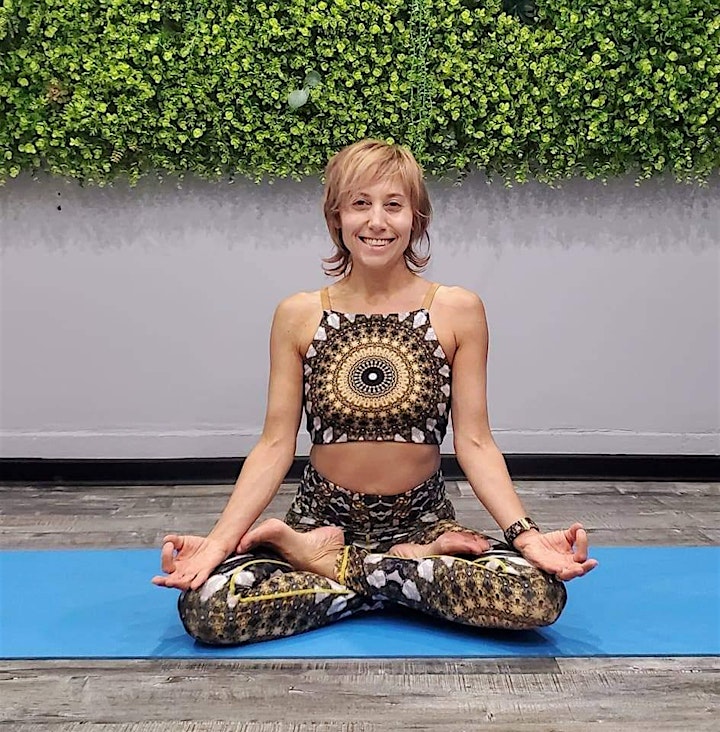 ABOUT IVY
Meet Ivy Glass: Your Radiant Yoga Guide and Visionary Coach Ivy Glass shines as your guiding light on the path to inner peace through yoga. Over 15 years ago, she made the transformative choice of yoga over medication, igniting a profound journey of self-discovery. With over 300 hours of yoga certifications, spanning vinyasa, children's, and prenatal yoga, and as a level 2 reiki practitioner, she infuses a spiritual depth into her teaching.While Ivy teaches many classic styles of yoga, she has created two unique yoga fusions that can meet anyone on their yoga journey. Her signature style, Kundalini Vinyasa Flow, combines ritual, chakra yoga, breathwork, meditation, and the raising of one's kundalini, all expressed with dynamic vinyasa movements. For those seeking to infuse their yoga practice with fun for all ages, Ivy offers Disco Yoga, a playful yoga experience featuring dynamic movements, vinyasa flow, partner/group poses, disco dance breaks, and live DJ music.Beyond the yoga mat, Ivy has embraced the role of a Visionary Coach. Certified in Quantum Coaching, she's on a mission to transform and awaken women, especially mothers, from the slumber of unfulfilled dreams. Ivy empowers everyone to live life fully awake, embodied, and expressed, infusing her coaching wisdom into her yoga classes.Ivy Glass believes in yoga as a fundamental key to happiness. Join her radiant journey today and let each asana, each breath, and each moment guide you to the blissful essence of your true self. The time is now!
CONNECT WITH IVY
ABOUT LIBERATE
More than a yoga studio, Liberate Yourself is a community created for spiritual and magically curious peeps like you! Everything we offer in our space – from infrared saunas to soundbaths, from classes to psychic readings, energy healing and crystals – is dedicated to helping you heal, transform and feel empowered to live your greatest life.
VIEW ALL OF LIBERATE'S EVENTS
W e have an incredible number of amazing events on our calendar every month beyond our Wellness Program. Full Moon Circles, Sound Baths, Acupunture Meditation, Cacao Ceremonies, Past Life Regression Journeys and lots, lots more. Check out our full calendar here:
https://liberateyourself.com/calendar/
TRY OUR INFRARED SAUNAS