New & Full Moon Women's Circle & Sound Bath with Kirsten Korot
$45 OR BRING A FRIEND FOR $80
UPCOMING DATES
New Moon in Leo – Thursday August 17th 7 – 8:30PM
Full Moon in Pisces – Thursday August 31st 7 – 8:30pm
New Moon in Virgo – Thursday, September 14th 7- 8 :30PM
New Moon Solar Eclipse in Libra – Friday, October 13th 7 – 8:30PM
Full Moon Eclipse in Taurus – Sunday, October 29th 4pm – 5:30pm
Full Moon in Gemini – Sunday November 26th, 2023 4-5:30pm
New Moon in Sagittarius – Thursday, December 14th 7 – 8:30PM
THIS EVENT TAKES PLACES OUTDOORS, PLEASE MAKE SURE TO DRESS ACCORDINGLY TO THE WEATHER
DOORS CLOSE PROMPTLY AT 7PM – NO LATE ENTRY ALLOWED SO AS NOT TO DISTURB THE ENERGY OF THE CIRCLE. PLEASE ARRIVE EARLY TO PARK AND CHECK IN AT THE FRONT DESK AND SET UP YOUR SPOT IN THE CIRCLE.
*This Women's Circle is not part of our Membership promotions*
Join Certified Moonologer, intuitive coach, and sound healer Kirsten Korot. Learn how to use the moon to find your natural flow and consciously create what you want to manifest in your life.
This circle is an opportunity to:
Create connection and community with other female bodied and nonbinary people in a safe and sacred environment.
Tune into your own feminine wisdom, inner power and intuition.
Experience intention setting, ritual, and open-hearted sharing.
Create an energetic circle of support, nurturing, and healing for yourself and other women
This circle is open to any and all women, non-binary, femme, or female-identifying beings. Join us!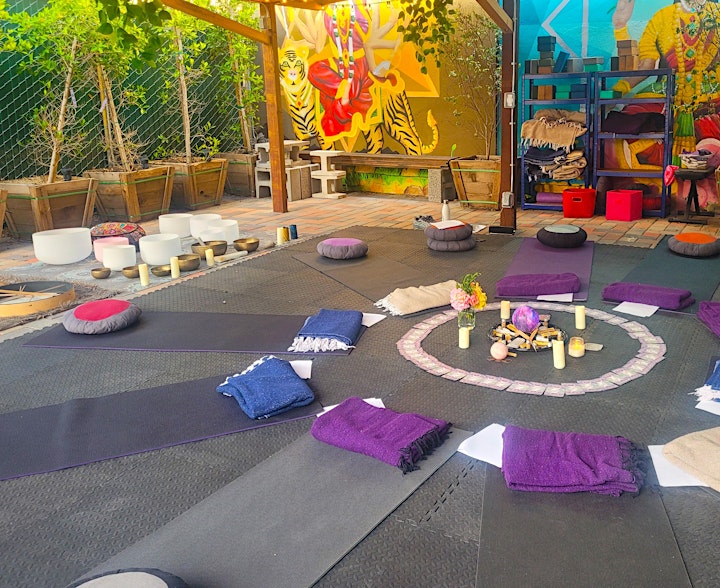 What Happens in A Women's Circle:
A Women's Circle is a gentle, soothing, safe and sacred space where we can share our experiences as women, support and inspire one another. It's a time for us to journey inwards and tune into our inner wisdom to remember who we are as a person, and what makes us feel in alignment with who we really are.
Each circle is unique based on the sign the Moon is in and the area of our life it is guiding us to journey with. It is a night of open-hearted conversation, moon journaling, new moon intention setting, full moon releasing, creative rituals , oracle card readings and a sound bath.
New Moons are for intention setting and planting seeds for new beginnings and at each Full Moon we work with where we need to forgive, release and let go of things no longer serving us.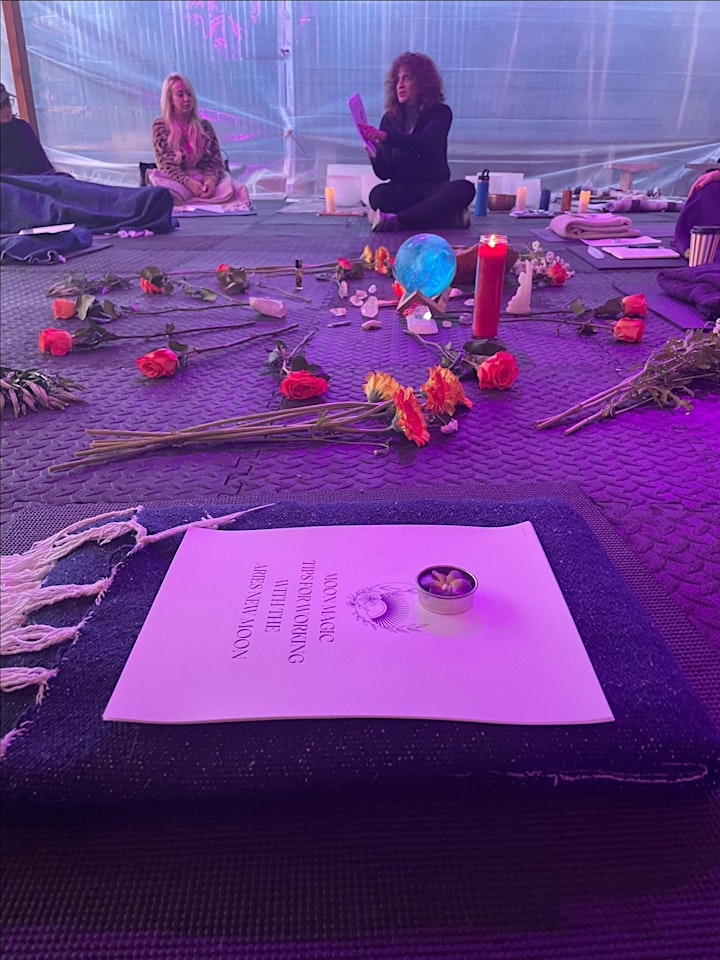 Kirsten also includes a special printed workbook around each specific moon as a guide.
Why do we work with the Moon Cycle?
As women we are deeply connected to the energies of the moon. When we follow and honor each moon phase you begin to understand and experience a natural state of flow while becoming more attuned to your own inner wise woman and the cycles of nature and life on Mother Earth. As we work alongside each cycle with various rituals, mindfulness and self-care practices it becomes a kind of cosmic reminder and self-care calendar guiding us to set intentions, take actions on our goals and dreams, make time to reflect, rest and then release what is no longer working or feeling aligned in our lives.
It also deepens our spiritual connection, empowers us, opens up our creativity, boosts our manifesting skills, heightens our intuition and helps us in co-creating a life that feels aligned with our soul and who we really are.
Come away feeling more clarity, calm, empowered and connected to your own inner divine feminine wisdom and join in an expanding sacred community of support,love and sisterhood.
Why should I attend?
We all have those moments where we can feel overwhelmed, worried, or anxious about something. And, if we don't have an outlet, this constant stress builds up. This can lead to us feeling disconnected, powerless, exhausted, burned out and even lead to illness.
It is essential as women that we make space for self-care rest and restore time and a circle provides a soul nourishing time-out for YOU amongst other women that get it and a shared sense of loving community and understanding without judgement.
What to bring and wear:
Please bring a JOURNAL OR PAPER AND PEN
Feel free to bring your crystals or sacred items that have meaning for you to energize it and your intentions in the circle.
Wear comfortable clothes you can move and sit in and bring layers since we are outdoors in the garden area (that has space heaters).
DRESS FOR COMFORT AND BRING LAYERS: yoga clothes, stretchy jacket/sweater, leggings/leg warmers, etc.
We provide yoga mats, pillows, and a blanket already set up for you on arrival. You are also invited to bring your own blanket/pillow/eye pillow and whatever you need to get comfy and cozy.
We will have water and cups available.
***NO LATE ENTRY SO AS NOT TO DISTURB THE ENERGY AND FLOW OF THE CIRCLE****.
PLEASE ALLOW YOURSELF TIME FOR PARKING AND TO CHECK IN AT THE FRONT DESK.
PLEASE NOTE: LAST MINUTE CHANGES (SUBS & CANCELLATIONS) ARE SUBJECT TO HAPPEN. PLEASE CALL US IF YOU HAVE ANY QUESTIONS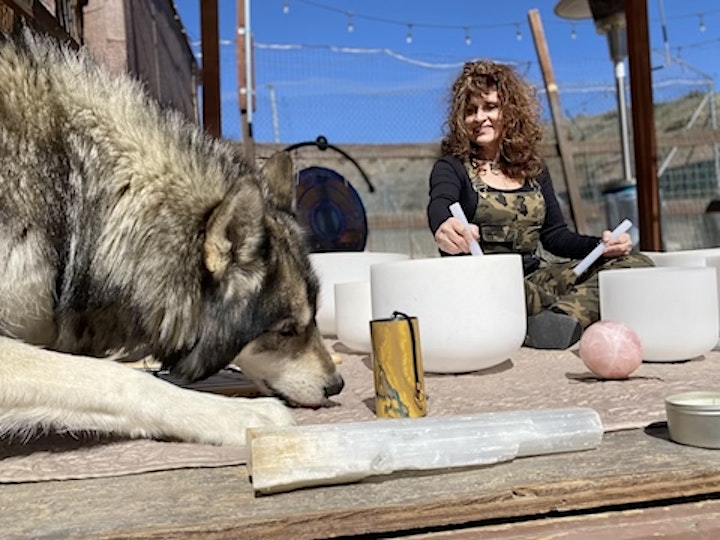 "A healthy woman is much like a wolf: robust, chock-full, strong life force, life-giving, territorially aware, inventive, loyal, roving."
"Practice listening to your intuition, your inner voice; ask questions;
be curious; see what you see; hear what you hear; and then act upon what you know to be true. These intuitive powers were given to your soul at birth."
From Women Who Run With the Wolves by Clarissa Pinkola Estés
____________________________________________________
Kirsten is a certified Moonologer™, sound healing practitioner and intuitive coach. She offers monthly online and in person women's moon circles and private moon sessions. Kirsten founded Nature Nurture Experiences in 2012 to connect people with the healing power of nature, sound healing, animals and mindfulness practices.
Kirsten is known for her Healing Day & Sound Bath with Wolves and her Sound Baths for People and their Dogs recently featured in the Netflix series "PET STARS", KTLA 5 Live, and WAGS TO RICHES on Million Stories TV.
In addition to online and in person classes on Zoom and YouTube, Kirsten provides private, group and has provided corporate wellness sessions for companies like CNN, WarnerMedia, Cartoon Network, Lululemon and various celebrity clients.
Stay in contact with Kirsten:
https://www.kirstenkorotinternational.com
Instagram/kirstenkorotinternational
Facebook/kirstenkorotinternational
ABOUT LIBERATE
More than a yoga studio, Liberate Yourself is a community created for spiritual and magically curious peeps like you! Everything we offer in our space – from infrared saunas to soundbaths, from classes to psychic readings, energy healing and crystals – is dedicated to helping you heal, transform and feel empowered to live your greatest life.
VIEW ALL OF LIBERATE'S EVENTS
We have an incredible number of amazing events on our calendar every month beyond our Wellness Program. Full Moon Circles, Sound Baths, Acupunture Meditation, Cacao Ceremonies, Past Life Regression Journeys and lots, lots more. Check out our full calendar here: