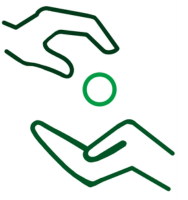 RELEASE – REALIGN – ACTIVATE
The most common branch of energy work is called Reiki, which was rediscovered in Japan around 1922 by Mikao Usui. Reiki channels source energy from the earth. It is  specifically great for stress reduction, relaxation, and chakra alignment.
All energy alignment is important for energetic hygiene. Just like our skin gets dirty and we have to take shower; our energy can get mixed with other people's, situations, and feelings. Leaving us feeling stagnant, off, and unbalanced in our bodies. Regular energy alignment can help us stay aligned, feeling good in our body, moving forward with ease, and energized.
Great for: Relieving stress, Healing emotional upsets and trauma, Gaining focus and clarity, Activating your potential, Energizing overall awareness