Chakra Alignment Guided Sound Bath Meditation with Riv
Join Riv every week to bring your energy back into your body, clear out unwanted energy in your auric field, and realign your chakras.
If you feel like your energy is off, out of balance, stagnant or just want to upkeep a healthy energy cleansing routine this class is for you!
WHAT TO EXPECT:
– Intention share
– An opening movement and embodiment exercise to help activate and bring you into your body.
– A guided meditation to help you communicate and move through the energies in each of your chakras
– Sound bath and energy healing from Riv to help clear, protect, and set intentions for you to release and bring in the energies you need to come back into alignment.
– Closing share!
This class is open to all levels and understanding of energy. You don't have to be extremely familar with chakras to benefit from this experience. Riv loves guiding people and teaching them tools to feel empowered about their body, emotions, and life!
CONNECT WITH RIV:
As a part of Liberate's Wellness Program, this class is included with Membership.
PRICE:
This class/event takes place in our outdoor garden that's equipped with space heaters and blankets, please dress accordingly.
PLEASE NOTE: LAST MINUTE CHANGES (SUBS & CANCELLATIONS) ARE SUBJECT TO HAPPEN. PLEASE CALL US IF YOU HAVE ANY QUESTIONS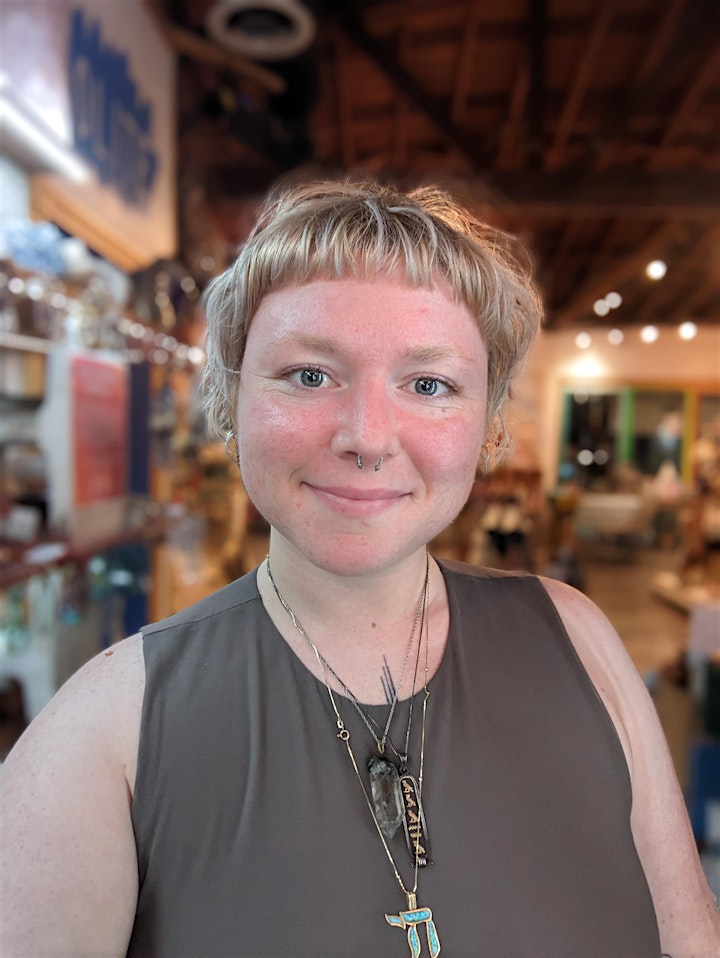 ABOUT RIV
An LA native, Riv (they/them) has always been attracted to the occult and spiritual spaces. They started to get more into spirituality after an intense spiritual awakening where they found community and connection via a spiritual podcast run by a psychic medium and EFT practitioner. In their work with these amazing women, Riv learned that they had the ability to be a psychic medium (as they had always dreamed and felt they were!)
They began studying and mentoring to become a psychic medium where they learned they had extremely strong clairvoyant, claircognizant, clairaudient, and clairsentient abilities. They practiced building their skills by giving hundreds of mini readings to their followers on TikTok during the pandemic.
Since then, Riv has worked to trust their intuition and heal so they can be a better healer for others. They started exploring their other gifts and found that they were a gift healer too! They got ceritified in Reiki healing and have since learned other modalities that they fold into their healings whilst they work alongside their alien guides.
Their favorite thing to help others with now is empowerment through trusting your intuition, learning the terms and names for your gifts and interests, self acceptance through readings, and trauma healing through metaphysical therapy. They have since worked 1-1 with clients for anything from learning to be a psychic medium to inner child healing.
They now offer akashic readings, astrology readings, human design readings, psychic medium readings, and energy healing.
ABOUT LIBERATE
More than a yoga studio, Liberate Yourself is a community created for spiritual and magically curious peeps like you! Everything we offer in our space – from infrared saunas to soundbaths, from classes to psychic readings, energy healing and crystals – is dedicated to helping you heal, transform and feel empowered to live your greatest life.
VIEW ALL OF LIBERATE'S EVENTS
We have an incredible number of amazing events on our calendar every month beyond our Wellness Program. Full Moon Circles, Sound Baths, Acupunture Meditation, Cacao Ceremonies, Past Life Regression Journeys and lots, lots more. Check out our full calendar here: